The World Innovation Summit for Health (WISH) held an exclusive preview of research and findings ahead of the 2015 Summit under the guidance of its Forum Chairs.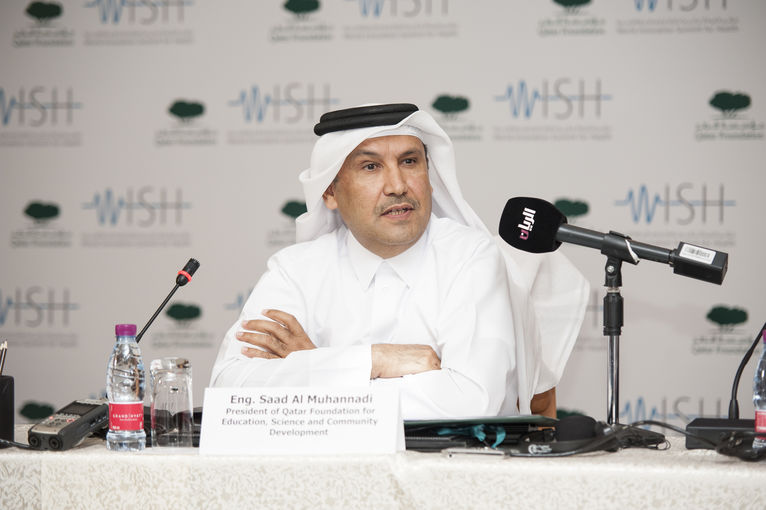 In addition to the seven new research Forums, WISH announced a special panel on 'Healthcare and Ethics' in partnership with the Research Center for Islamic Legislation and Ethics (CILE). The panel, which will take place during the 2015 Summit, will focus on the development and implementation of 'Genomic Medicine' and the innovation and ethical challenges behind this revolutionary new medicine.
Although Genomic Medicine raises complex ethical and religious issues, the potential it holds for future healthcare is immense. This is why 'Genomic Medicine' is currently one of Qatar's national priorities and Her Highness Sheikha Moza bint Nasser, Chairperson of Qatar Foundation and Founder of WISH, announced the 'Qatar Genome Project' at the inaugural Summit in 2013.
Engineer Saad Al Muhannadi, President of Qatar Foundation, said: "Qatar Foundation is proud to have established WISH, which aims to ensure impactful outcomes in healthcare innovation in Qatar, the region and beyond. The second summit in 2015 will be crucial for the progression of collaborative action focused on innovative methods to solve today's global healthcare issues. Central to this is the scope and influence of the unprecedented forum reports, a testament of the international collaboration at the heart of WISH's mission."
Professor The Lord Darzi of Denham, Executive Chair of WISH and Director of the Institute of Global Health Innovation at Imperial College of London, added: "Today's workshops are just the tip of the iceberg of the potential in each of our research forums. With sustained commitment and global collaboration, we can work together to find global solutions to healthcare issues affecting every country. I am truly excited by the work being done and believe the resulting reports will be a valuable asset for policy makers, thought leaders and governments around the world."
For the full story, please
click here
.