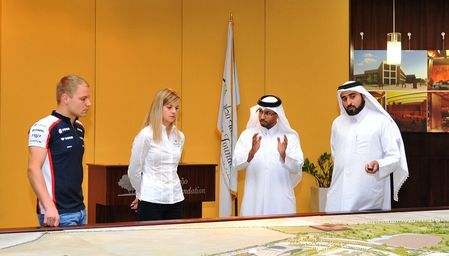 Qatar Foundation hosted a delegation from Williams, one of the world's leading Formula 1 teams on 23 April. A welcoming committee received the racing drivers at the Qatar Foundation Visitors Center.
Valtteri Bottas, a Finnish racing driver, who is competing in his debut FIA Formula One World Championship season with the Williams F1 Team, is currently on his third visit to Qatar. Mr Bottas said he is extremely impressed with the rapid pace of development that is currently underway at Qatar Foundation and across the country.
"The first time I came here was in 2010 and since then, year by year, I see things moving forward quickly so it is really nice to see how fast everything is being built up here," said Mr Bottas. "I am very impressed about the things that Qatar Foundation is investing in and pushing for."
In partnership with Qatar Science & Technology Park (QSTP), Williams F1 established the Williams Technology Centre in Qatar to develop and commercialise technologies that have their origins in Formula 1. There are currently two research and development projects underway to improve the efficiency and reliability of rapid transportation, road safety, and fuel efficiency.
Mr Bottas explained, "We visited the Williams Technology Centre that is in QSTP and that is supported by Qatar Foundation. It is great that we can push forward the Formula 1 technology and take it to the next level, to help the economy and the people."
Susie Wolff, a Development Driver for the Williams F1 team, echoed the same sentiments and drew parallels between Qatar Foundation's mission to foster excellence and Williams' long-term formula for success. Similar to Qatar Foundation's mandate to tap into the potential of youth, over the years Williams has nurtured many great talents, both in the cockpit and in the design office, which has resulted in them winning 16 FIA Formula One World Championships.
"I think Formula 1 is the most technologically advanced sport in the world and we are always moving at a very fast pace. I think that is why the technology centre here at QSTP is in parallel, because everyone is striving to be the best, everyone is striving to find the next small part in the car which will make them the quickest," said Ms Wolff.
In her role as a development driver, Ms Wolff plays an active part in supporting the Williams team by driving a simulator at the factory to conduct the aerodynamic tests for the cars. She highlighted the importance of sport in bringing discipline, motivation, and focus to the lives of children.
Williams is recognised as one of the most enduring and successful organisations in sport and the team has grown exponentially since 1977. What started out as a group of 17 people has developed into a company that now employs more than 500 staff at its technology campus in Grove, Oxfordshire.