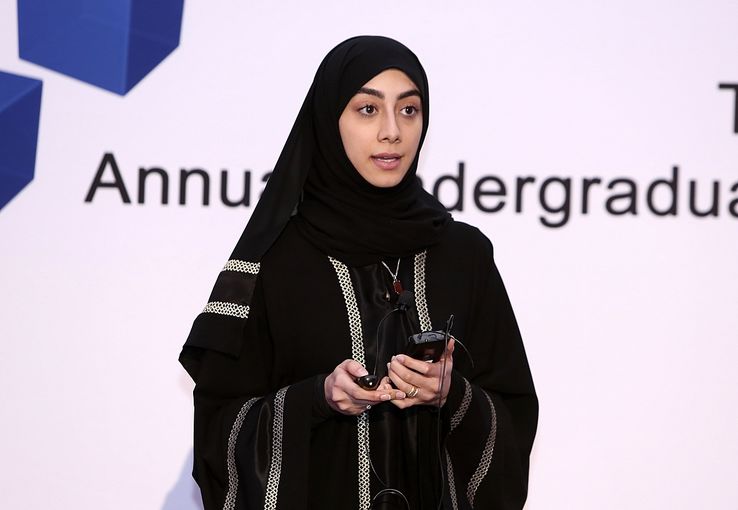 Qatar National Research Fund (QNRF) has awarded prizes and certificates to the best research projects completed last year resulting from its long-standing funding program for undergraduate students.
The Undergraduate Research Experience Program (UREP) gives students the opportunity to acquire invaluable experience through participating in innovative research under the guidance of faculty members.
Every year, the top 25 percent of completed projects are shortlisted for the UREP competition. This year, 27 projects completed in 2013 qualified for an initial QNRF panel review.
The event was held under the patronage of Mr Faisal Alsuwaidi, President of Research and Development at Qatar Foundation, who praised the quality of entrants to the UREP competition.
"Students are the building blocks that will sustain Qatar's future knowledge-based economy," he said. "We will continue supporting students in Qatar as part of our commitment to transform the nation into a global centre of research excellence."
First place was awarded to a team from Weill Cornell Medical College in Qatar. Their project, 'Typology and Credibility of Gulf Cooperation Council Internet Health Websites', examined ways for improving consumer e-health websites in Qatar.
The other projects in the competition focussed on the fields of engineering and technology, natural sciences, medical sciences, and social sciences and humanities.
Finalists included a team from Texas A&M University at Qatar, who worked on a novel, environmentally-friendly and inexpensive method of degassing oil and drilling fluids using ultrasonic waves to remove gas bubbles from liquid systems.
Another project from Weill Cornell Medical College in Qatar also made it to the finals. The team studied the role of two different cellular components in order to see how they affect the overall growth of cells.
In the field of natural sciences, a Qatar University team studied the effects of garden thyme as a therapeutic agent for breast cancer. Another team from Qatar University, in the discipline of social sciences and humanities, studied the relationship between cultural misunderstandings in business and the quality of customer service in order to help companies improve their dealings with clients in cosmopolitan societies.
For the full story, please
click here
.