Weill Cornell Medicine-Qatar (WCM-Q) pediatrician Dr. Amal Khidir offered parents valuable advice on how to ensure their children eat a healthy, balanced diet at the latest WCM-Q Ask the Expert event.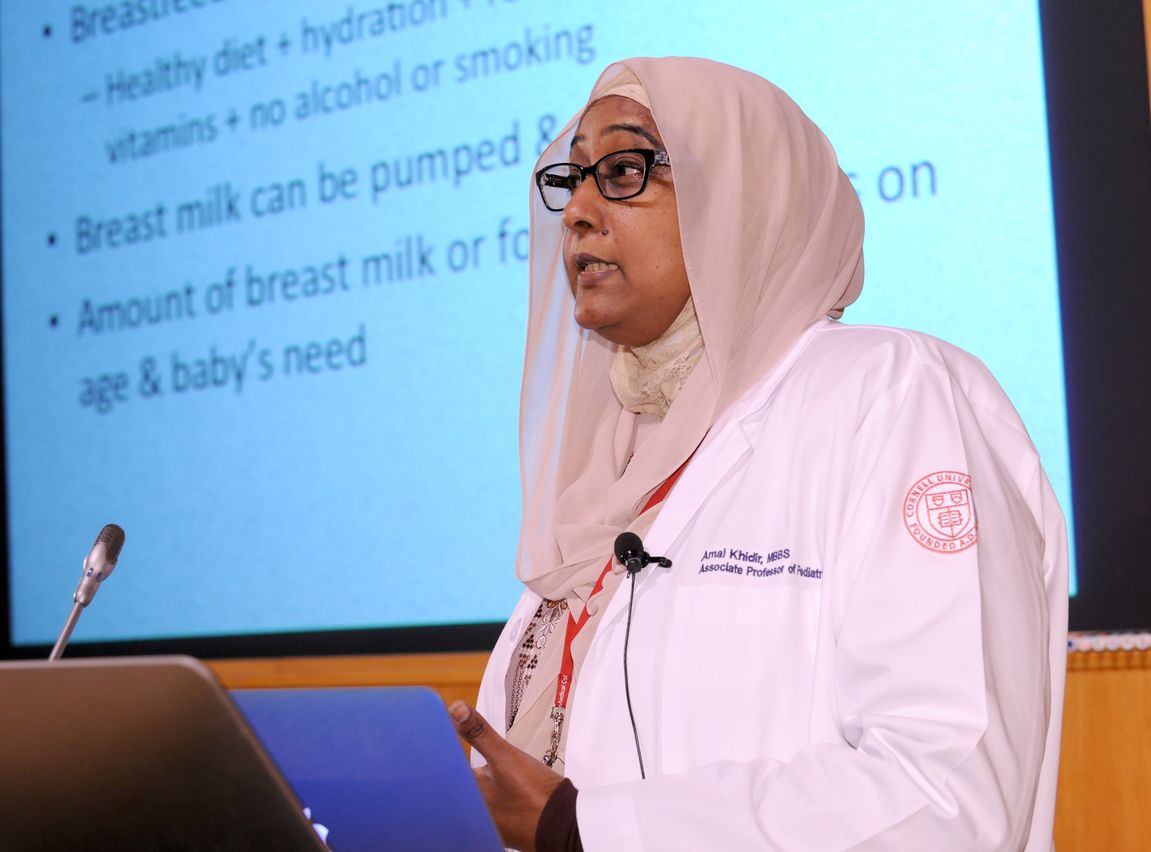 In addition to giving detailed dietary information for children from birth to age 18, Dr. Khidir, Associate Professor of Pediatrics, explained that one of the most valuable gifts a parent can bestow upon a child is an appreciation of good, healthy food and respect for one's own health.
Speaking at the event, held at WCM-Q's campus in Education City, Dr. Khidir said: "It is crucial to not only teach our children which foods are healthy but also to nurture in them a love of healthy balanced food from a young age. The trick is to respect autonomy and avoid arguments. The parents have to be clear in their mind and from the beginning adopt a healthy lifestyle. Many times parents forget they are the role model to their children and adolescents.
The picky eater is not born a picky eater, it is determined by how the caregiver handles the normal fluctuation in appetite. The new offering of food may take 10-15 times before a child or a baby accept it.
The Ask the Expert series is part of WCM-Q's Sahtak Awalan – Your Health First campaign. The interactive presentations are free to attend and feature an interactive Q&A session that allows audience members to ask follow-up questions about the topic.
Dr. Khidir explained the benefits of breastfeeding for newborn babies and encouraged mothers who experienced difficulty feeding to seek help from their child's doctor, obstetrician, midwife or lactation specialist. She then discussed ways to gradually introduce solid foods to babies from the age of six months, before speaking about the differing nutritional needs of children at each stage of development, starting with toddlers and progressing through pre-schoolers, gradeschoolers and teenagers.
In addition to stressing the benefits of good nutrition, Dr. Khidir also warned about the risks to health posed by diets that include large amounts of fast foods that are very high in calories, sugars and saturated fats - these include becoming overweight or obese and an increased likelihood of developing type-2 diabetes.
For the full story, please click
here
.