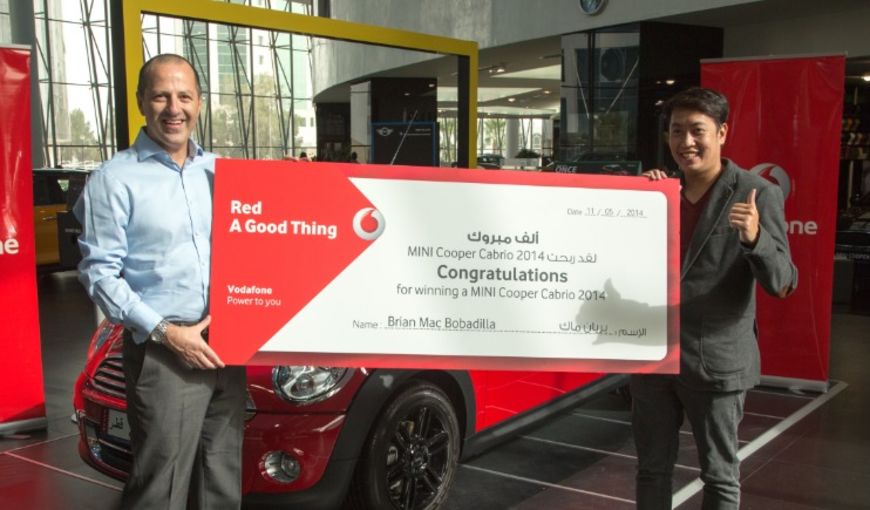 Vodafone Qatar recently announced the name of the lucky winner of a brand new MINI Cooper 2014. The prize follows the social media competition, 'Compete for a Seat', the company ran when it launched its latest Postpaid plans, Red.
Marc Norris, Chief Commercial Officer of Vodafone Qatar, welcomed the winner, Brian Mac Bobadillo in Vodafone's Al-Safwa center.
'Compete for a seat' ran for two and a half consecutive months, in celebration of the launch of Red Postpaid Plans, and aimed at engaging fans and followers.
It comprised three big prizes including a Red MINI Cooper, a trip to UK to watch live the football match that brought together the Red Devils Vs. The Reds and a seven-day trip to visit the Red beach in Santorini, Greece.
The competition witnessed great interest and participation with more than 8,500 entries across Facebook, Twitter and Instagram with 30,000 new Fans and followers on Vodafone Qatar's social media channels and over 100,000 Likes, shares and comments.
In addition to that, Vodafone Qatar ran special competitions on Instagram with prizes from Christian Louboutin, Gucci, Versace, Mont Blanc and other high-end brands.
For the full story, please
click here
.