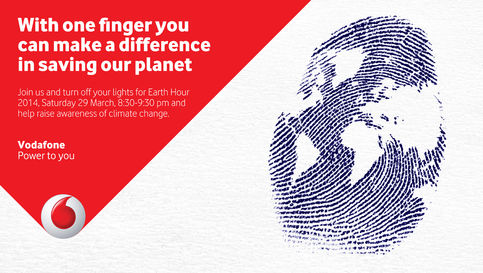 Vodafone Qatar recently marked Earth Hour by turning off the lights for one hour in all its retail stores.
With the slogan: 'Your finger can save the planet', Vodafone held an awareness campaign in all retail stores to encourage everyone in Qatar to turn off their lights for Earth Hour.Also for the long term impact, the campaign encouraged store visitors to take small daily steps such as turning off electrical appliances when they are not in use and saving energy as much as possible on a daily basis.
"In addition to internal environmental impact monitoring, and providing environmental-friendly solutions to customers, Vodafone believes in its role as part of its corporate social responsibility in raising awareness locally about the pressing global issue of climate change, contributing to Qatar's environmental sustainability aims," said Dana Haidan, Head of CSR, Vodafone Qatar.
More than 7,000 cities around the world every year participate in Earth Hour, resulting in a tremendous impact on global levels of CO2 emissions in one hour, showing how each individual can contribute with small daily actions and generate a global ripple effect over time in addressing climate change.
Vodafone is committed to lead activities that nurture and protect the environment. Participating in Earth Hour comes in a long line of initiatives.
When Vodafone launched in 2009, the company immediately introduced biodegradable scratch cards. Shortly after, Vodafone launched the first Mobile recycling program in all its retail stores, and started recycling all unused posters, flyers and brochures that become obsolete at the end of promotions.
Vodafone Qatar also believes in giving customers environmentally friendly communication options, and since 2011 the company started offering solar-energy-powered mobile phones, and solar energy phone chargers.