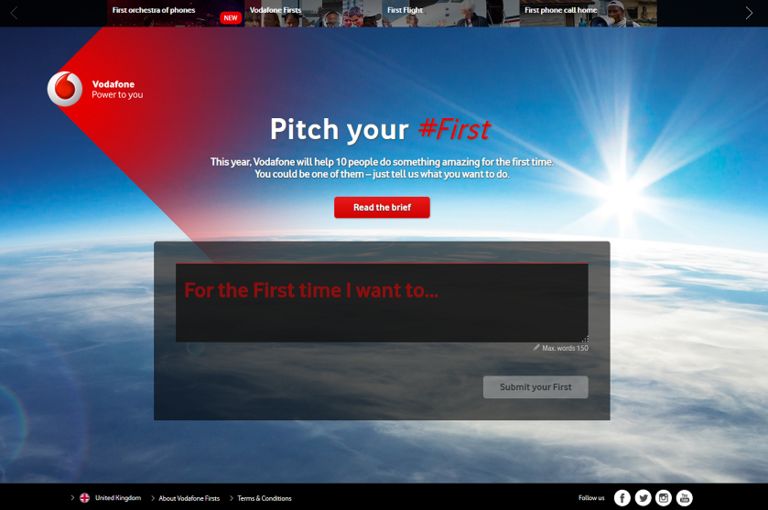 Vodafone is calling upon everyone in Qatar to join www.firsts.com in order to turn one of their dreams into a reality.
Vodafone is offering people across 10 countries, including Qatar, the opportunity to Pitch Your First – a new Vodafone Firsts initiative to encourage everyone to do something remarkable for the first time, with mobile technology playing a role in bringing the experience to life.
People who have a compelling First idea will be able to share their ambitions at www.firsts.com. Vodafone judges will select the best proposals from 10 shortlisted finalists in each country: the shortlist will then be put to an online public vote, with one winner in each market seeing their dream become a reality.
As part of the Pitch Your First launch, Vodafone has announced a series of new Firsts, including:
•an audience in Berlin playing with Booka Shade as the audience's smartphones became part of a unique performance in Booka Shade's 'First Orchestra of Phones';
•an emerging artist or band winning the opportunity to play their first-ever stadium show in front of 80,000 people at Wembley Stadium. Footage of their performance will be crowd-sourced from audience smartphones to create a unique music video.
Vodafone is also encouraging people to video their own reactions using a smartphone or tablet front-facing camera as they achieve something amazing for the first time. These short videos – capturing the joy, surprise and excitement at the exact moment in someone's life when they achieve something amazing for the first time – are what Vodafone calls Lifies.
Lifiescapturing the expressions of 53 people as they experience their First– including a 69-year-old man riding a zip-line, a young boy riding a horse, a couple seeing the first scan of their unborn child and a man conducting an orchestra – will be projected onto iconic buildings around the world.
For the full story, please
click here
.