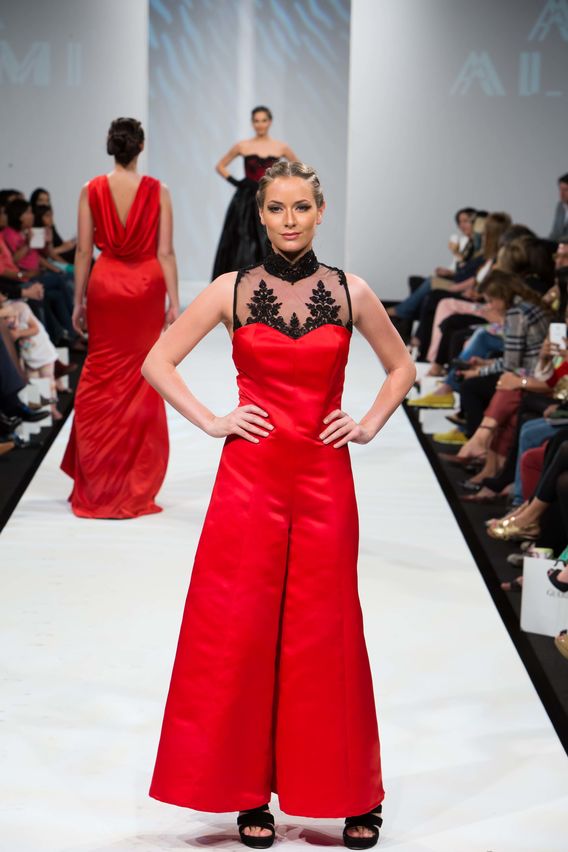 Virginia Commonwealth University in Qatar Virginia presented its Fifteenth Annual Fashion Show, 'Center Front' to full houses on 15, 16 and 17 April, 2014. The event was hosted by Salam at The Gate Mall.
'Center Front' showcased the work of VCUQatar fashion design sophomores, juniors and 16 seniors – Ahmed Malalla, Aisha Al Naemi, Alanoud Al Nuaimi, Alexia Thomas, Douha Al Jozali, Fatima Maki, Hisham Dawoud, Imelda Jurasova, Maha Al Saad, Maha Khalifa Al-Subaey, Marianne Bermejo, Munira Da Silva, Nada Taha, Noor Abdulla Hamad Al-Thani, Noor Rashid Al-Thani and Rayah Al-Meghaisaib - featuring a range with components of the ethnic, handcrafted, modern, eclectic and glamorous.
The show also featured senior fashion design students – Jame't Jackson, Joey Zuraf and Noela Tian – from the VCU Richmond campus as guest designers.
The senior thesis collection was an eclectic mix of day to evening looks and consisted of a minimum of 10 looks that reflected the individual aesthetic of each student and reinforced their individual vision, creativity and styles.
Sandra Wilkins, Chair of the fashion design department, announced the awards on the last evening of the fashion show.
VCUQatar's Golden Needle Awards, given to the most outstanding students in the fashion design department, were presented during the show to the students – Samia Mohammad for Best Children's Collection, Mahnoor Ansari for Most Outstanding Sophomore, Noor Al Mannai for Best Black Dress Collection; Kinda Morshed for Best Junior Collection, Dylon Sergei Adonis for Most Outstanding Junior; Imelda Jurasova for Most Outstanding Senior, and Alanoud Al Nuaimi and Marianne Bermejo for Most Outstanding Senior Collection.
Special Recognition Awards were presented to two seniors from the Richmond campus Noela Tian and Joey Zuraf, and Special Recognition for Outstanding Leadership was presented to Nada Taha.
Wilkins also announced Alanoud Al Nuaimi, Fatima Maki and Noor Abdulla Hamad Al-Thani's collections were chosen to be showcased at VCU Richmond.
For the fourth consecutive year, the W Doha Hotel and Residences sponsored the W Doha Fashion Award, presented to the most outstanding and innovative VCUQatar fashion design student of the year. Clara De Lama, director of marketing at the W Doha, presented the award to Alexia Thomas.
The award includes the opportunity to use W Doha, and another W Hotel around the globe, as a platform to showcase her collections at various events happening throughout the year.
The Salam Fashion Award, introduced last year by Salam International Investments Chairman and CEO Issa Abu Issa, to support a graduate's transition from student designer to a career in design was presented to Maha Khalifa Al-Subaey. The award includes mentoring in the development and design of two bespoke collections which will be sold exclusively within a dedicated space in Salam Stores, Doha.
The fashion show is part of the annual activities of VCUQatar's fashion design program, to develop the country's growing fashion industry, with support from Qatar Foundation.
'Center Front' was the culminating academic project for Fashion Design students at VCUQatar, and every aspect - from the jury-selected student designs and model try-outs to show production - reflected their academic and creative efforts while launching senior fashion students from student life into successful careers.
For the full story, please
click here
.