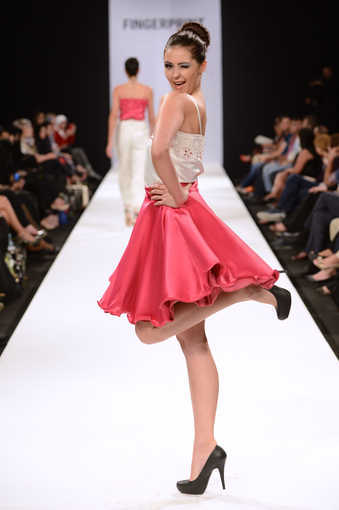 Virginia Commonwealth University in Qatar presented its Fourteenth Annual Fashion Show, 'Fingerprint' to full houses on 16, 17 and 18 April 2013. The event was hosted by Salam at The Gate Mall.
'Fingerprint' showcased the work of VCUQatar fashion design sophomores, juniors and five seniors – Basra Bashir, Dana Masoud, Oulla Al-Samarrae, Rabab Abdulla and Sultana Jesmine - featuring a range with components of the ethnic, handcrafted, modern, eclectic, architectural and glamorous.
The senior thesis collection was an eclectic mix of day to evening looks and consisted of a minimum of 10 looks that reflected the individual aesthetic of each student and reinforced their individual vision, creativity and styles.
New York-based guest designer Eric Gaskins's, whose collection opened the show, featured luxurious evening pieces, clearly reiterating why his classic style is so popular with celebrities such are Salma Hayek, Natalie Portman, Sharon Stone and Kim Cattrall among others.
For the first time this year, the 14-member jury comprising sponsors Salam, the W Doha and Texture Boutique, besides other industry professionals, who select the designs that go into the show, eliminated none of the garments during the final juried round.
The fashion show is part of the annual activities of VCUQatar's fashion design program, to develop the country's growing fashion industry, with support from Qatar Foundation for Education, Science and Community Development.
'Fingerprint' was the culminating academic project for Fashion Design students at VCUQatar, and every aspect - from the jury-selected student designs and model try-outs to show production - reflected their academic and creative efforts while launching senior fashion students from student life into successful careers.
This celebration of fashion brought together spectators, friends, and fashion enthusiasts from the region, not only to judge and/or admire the collections of the students, but also for the unique atmosphere of this grand defilé.