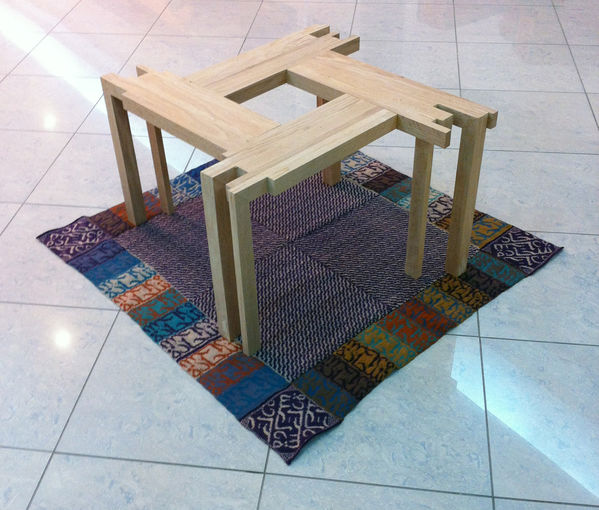 Katara Art Center hosts 'Dressing Up, Going Out, Eating In,' an exhibition by Virginia Commonwealth University (VCUQatar) faculty in collaboration with other designers.
The exhibition runs from 28 January until 8 March 2014 at the Katara Concept Space, with an opening on 28 January at 6:00pm. The event is open to the public.
The exhibition is a collaboration among designers Della Reams, assistant professor in the Fashion Design department at VCUQatar, Johan Granberg, assistant professor in the Interior Design department at VCUQatar, Jeanine Hill Rasmussen, and VCUQatar alumna Rana Rwaished.
It is a scenographic setting of the dining ritual featuring fashion, furniture, textiles, tableware, lighting and Arabic calligraphy - all of which are being produced collaboratively using a relay method among the creators.
The setting comprises three areas: a dining area, a sitting area, and a majlis area. The exhibition includes new clothing for two couples - hand-manipulated machine-knitted mohair dresses by Reams, and men's travel jackets (with pants) by Granberg. The travel jackets have detachable hoods, which are covered by Reams' knitted wool fabric, featuring Arabic writing that says "Jacket".
The jackets are casual when the hoodies are worn with them, and more formal when the hoodies are detached.There will be models wearing this clothing at the opening (on 28 January at 6:00pm).
All four designers have exhibited internationally prior to this exhibition, "but this is a special exhibition where we have been working to create an environment together.We use a relay method, where one person designs a part of an item, then passes it on to the next person to finish it," says Reams.
Rwaished adds, "I'm excited and nervous at the same time, I was called in to replace another member, my time frame wasn't as long as the others so that was an interesting challenge to accept and make something for the show."
The event is open to the public.
For the full story, please
click here
.