Virginia Commonwealth School of the Arts in Qatar (VCUarts Qatar) recently held an event for its students as part of its 20th anniversary celebrations. The event was one of several that the university has been holding in its 20th year, which opened in 1998 and was originally called Shaqab College of Design Arts. The first degree programs in Fashion Design, and Graphic Design in 1999, followed the establishment of its Art Foundation program in 1998.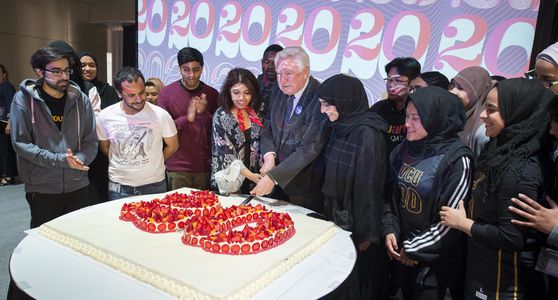 Students, faculty and staff gathered in the Atrium to take part in Virginia Commonwealth University-themed board games and other games and activities including having their photographs taken at a 20th anniversary photo booth, and to enjoy the chocolate fountain, nachos, crazy drinks, and other fun snacks.
The event began with an introduction by Assistant Dean for Student Affairs Valerie Jeremijenko, who said: "As someone who has been here for close to 17 of those 20 years, I have been witness to the work of all the faculty, all the staff, and all our amazing students and alumni, as we have worked towards cultivating the arts, igniting imaginations and changing the perception of art and design in Qatar. We have come a long way in 20 years and made a very big impact. Thank you all for being change-making and innovators. Thank you all for being a part of this mission."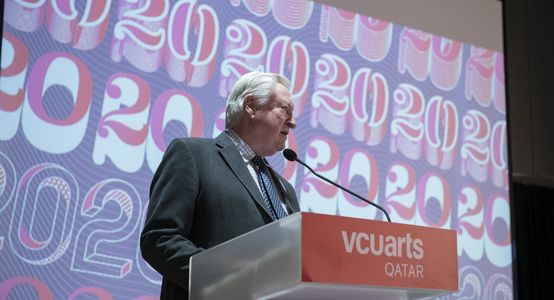 Her comments were echoed by Executive Dean Dr. Donald N. Baker, who said: "It is my pleasure to be here today and celebrate this great and historical day with you. VCUarts Qatar is proud to be part of the 2030 vision of Qatar and proud to have been cultivating the arts, and igniting imagination to building the future for the past 20 years."
Student Government Association President Anusheh Zaman and Interim Manager of International Education & Student Programming LaKisha Tillman also addressed the assembled students before joining the Dean and other student association presidents on the Atrium's stage to cut a large cake that was bedecked with the 20th anniversary logo. The attendees also received specially created 20th anniversary souvenirs such as mugs and badges.
VCUarts Qatar also recently opened an exhibition called "Hindsight", which is a collection of photographs showing the university's faculty and staff when they were in their twenties.
For more information about VCUarts Qatar, please visit
http://www.qatar.vcu.edu
To read more, please click
here
.