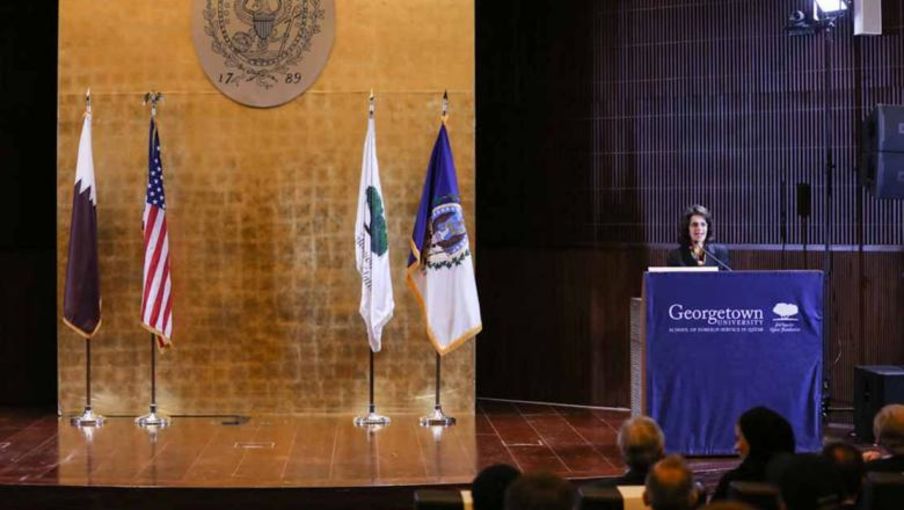 Georgetown University – School of Foreign Service in Qatar (SFS-Qatar) recently hosted the Honorable Susan L Ziadeh, US Ambassador to Qatar, for a lecture titled, 'The Evolving Role of Diplomacy and Diplomats:an American Angle.'
After a thoughtful and enthusiastic introduction by SFS-Qatar student Maram Al-Dafa (Class of 2015), Ambassador Ziadeh took the stage and methodically explained how emerging and accelerating trends have affected diplomacy in the Middle East.She discussed three trends in particular:people to people engagement at all levels of society, the rise of social media, and the ascendency of opposition parties.
"Social media have become powerful tools for building political communities and rewriting national narratives, for rallying momentum in civil society, and for circumventing traditional sources of public information like government and state-run media," Ziadeh said.
"Diplomats have always been messengers between governments, but now we are also interlocutors between governments and people."But despite the profound impact of technology on international relations, Ziadeh noted that there is no "technical substitute for the human touch in diplomacy."
During the question and answer period, a Georgetown student asked Ambassador Ziadeh if she thought social media was a way to be politically active without "real sacrifice."The example given was a social media user pressing 'like' on an online post versus protesting in the street.
Ambassador Ziadeh replied with her own question:"Which is more powerful?Barricades or the sharing of ideas?"
The ambassador explained, "Ideas are the most powerful tool that any leader or group has.Social media enables a collective to have influence.Social media is a way of bringing like-minded people together."
To read the full article on Georgetown's website, please
click here
.