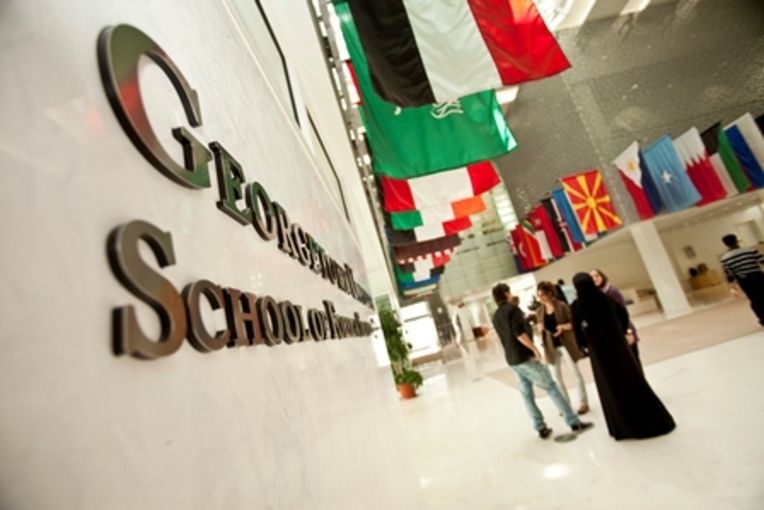 Rwanda, a country scarred by invasion, war, genocide, and a country that is now in a state of reconciliation, justice, and renewal, was the destination of 15 Georgetown University - School of Foreign Service in Qatar (SFS-Q) students as they embarked on a recent eight-day Zones of Conflict/Zones of Peace (ZCZP) learning trip.
Before landing in Rwanda's capital, SFS-Q students prepared for the trip by studying Rwanda's history, including pre-colonial times and colonization leading up to the 1994 genocide.
By the time students arrived in Kigali they had a firm understanding of the conflict between Rwanda's Hutu and Tutsi peoples, and the efforts of reconciliation. The students were prepared to come face-to-face with the historical realities on the ground.
The agenda-filled week included visiting the Ntarama and Nyamata Memorial Sites, the Belgian Massacre Site, and the famous Milles Colines Hotel which housed refugees during the Rwanda Genocide and was the basis for the movie Hotel Rwanda.
To see international aid work in action, students visited the Ibuka Survivors Group, the Red Cross, USAID, as well as others.
Meetings with conflict resolution institutions allowed students to ask questions and learn about such work on the ground. Visits to the International Criminal Tribunal for Rwanda, the National Unity and Reconciliation Commission and more, led to robust discussions at the students' end-of-day debriefings.
The SFS-Q students were joined on the trip by a Georgetown University graduate student from the Conflict Resolution program on Main Campus, a Texas A&M at Qatar student and two Qatar Academy teachers.
To read the full story please visit: http://qatar.sfs.georgetown.edu/378151.html#