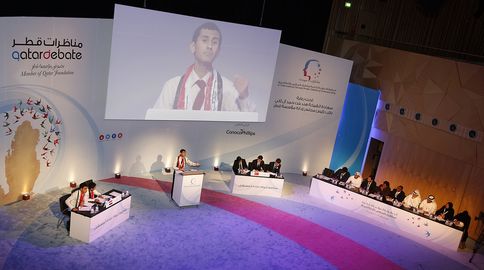 Under the patronage of HE Sheikha Hind bint Hamad Al Thani, Vice Chairman of the Qatar Foundation for Education, Science and Community Development, the International Schools Arabic Debating Championship organized by QatarDebate, member of Qatar Foundation concluded during a closing ceremony which took place on Wednesday 26 March 2014 at the Qatar National Convention Centre (QNCC).
Attending the ceremony was HE Saad bin Ibrahim Al Mohannadi, Chairman of Qatar Foundation, in addition to the delegations from the countries participating in the international championship that include 22 teams from 18 Arab countries and four foreign countries.
The Yemeni and Turkish teams competed in the final round after going through a fierce semifinal with Qatar and Jordan. In the final debate, the two teams addressed the following topic: 'This House believes that the deterioration of the Arabic language is caused by the different Arabic dialects.'
From her part, Dr. Hayat Maarafi, Executive Director of QatarDebate, praised in her closing speech HE Sheikha Hind bint Hamad Al-Thani's patronage of the competition and the honor of her presence.
She also noted that announcing that the Arabic language is fine will not bring this language to its full potential, saying, "The Arabic language will not rise alone, but rises with those who speak it. We ask of you to join hands to build a present that is better than our past and a future better than our present, to reach a prestigious status where we're proud of our identity and heritage. "
HE Sheikha Hind bint Hamad Al Thani, Vice Chairman of Qatar Foundation took the stage to honor the winners, and to join in announcing the Turkish team as the winner, followed by the Yemeni team as runner-up. The Qatari national team took the fourth place in the tournament after losing to his Jordanian counterpart in a debate to determine the third and fourth places.
During the closing ceremony, HE Engineer Saad Bin Ibrahim Al Mohannadi, Chairman of Qatar Foundation launched "Introduction to the Art of Debating" book, the third publication from QatarDebate, written by Dr. Abdellatif Sellami, Educational Programs Manager at QatarDebate, and reviewed by Dr. Hayat Abdullah Maarafi, Executive Director of QatarDebate.
The book discusses public speaking and debate on a macro-level. Following the inauguration of the book, HE Saad Al Mohannadi honored the book's author, Dr. Abdellatif Sellami in recognition of his effort to enrich the Arabic library. Mr. Salem Al Halbadi, a representative from ConocoPhillips, was also honored as the Gold sponsor of the championship.
The participating teams represented these countries: Qatar, Algeria, Mauritania, Turkey, Tunisia, Syria, Lebanon, Iraq, Kuwait, Jordan, the US, Sudan, Somalia, Yemen, Comoros, Djibouti, Singapore, Libya, Oman, Palestine, Malaysia, Bahrain.
For the full story, please
click here
.