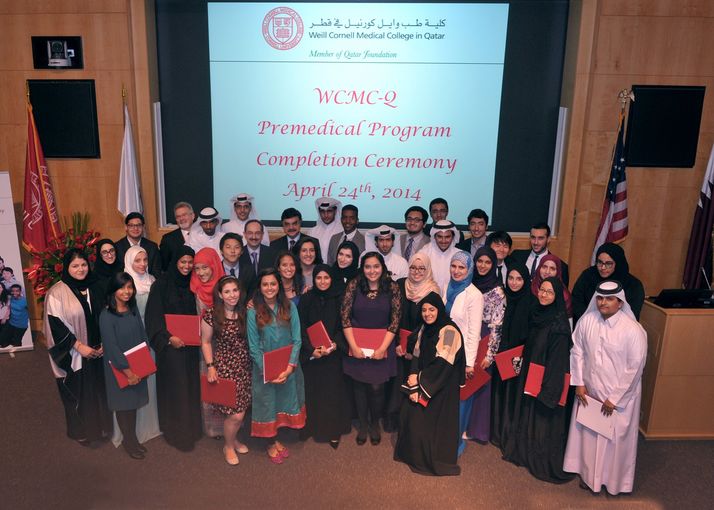 Thirty Weill Cornell Medical College in Qatar (WCMC-Q) students are celebrating after being named on the Dean's Honor List at a ceremony held at Hamad Bin Khalifa University's Student Center.
First and second-year pre-medical students who posted GPA scores of 3.75 or higher in the Fall 2013 term qualified for inclusion on the list, which is announced annually to formally acknowledge the achievement of academic excellence.
The students who made the grade for the 2014 Dean's Honor List are Aya Youssef, Ramez Rawhani, Said Alnajjar, Farah Bshesh, Suresh Menik Arachchige, George Sadek, Tarek Taha, Yahya Othman, Irfan Helmy, Nada Darwish, Tina Bharani, Merna Hussien, Syeda Razia Haider, Aulia Ahmad, Sahar Abida Mahadik, Mohammed Salama Chaker, Mountasir El-Tohami, Ahmad Salah Sami, Farah Al-Sayyed, Safa Mahgoub, Nahel Tunio, Youmna Abdelghany, Fatima Al-Maadid, Faryal Malick, Nora AlFakhri, Basem Oraby, Imen Becetti, Adham Musthak, Mu Ji Hwang and Hawra Al Lawati.
The event also featured a speech by Dr Jehan Al Rayahi, a graduate of WCMC-Q's inaugural class of 2008.
Dr Al Rayahi, who completed her residency training in radiology at Hamad Medical Corporation in 2012, told the students: "It gives me great pleasure to extend my sincere congratulations to all of you for this wonderful achievement. I also congratulate your parents for supporting you, and I urge you to keep working hard towards your goals. There is a lot of hard work ahead, but you have shown that with dedication and perseverance you can achieve great things."
Two Qatari students, Fatima Al-Maadid and Ramez Rawhani, made it onto this year's Dean's Honor List.
For the full story, please
click here
.