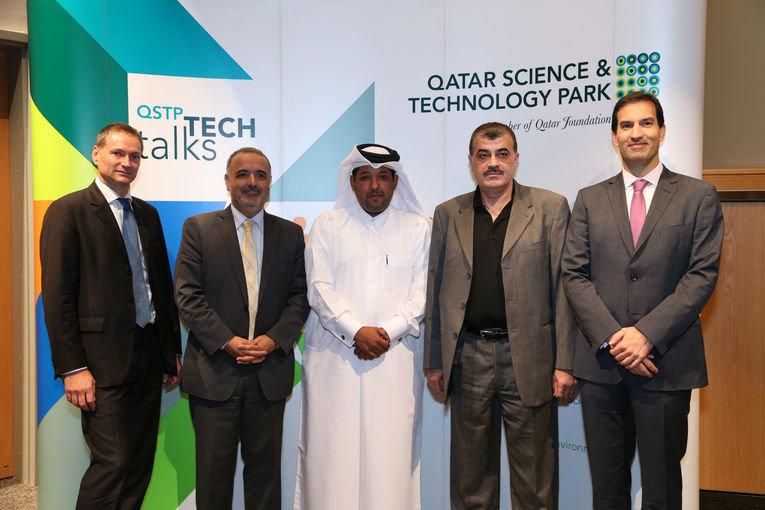 In a new edition of its popular TECHtalks series, Qatar Science & Technology Park (QSTP), part of QF R&D, on 3 November hosted Dr Amer I. El-Saigh, Head of Networks at Vodafone Qatar, to discuss the evolution and future of wireless technologies. He was joined by a panel of Qatar's most accomplished telecommunications experts, academics and officials for a two hour seminar held in QSTP.
Condensing 30 years of technology development into a 30 minute presentation, Dr El-Saigh gave a high-level overview of the technical and industrial history of wireless technology and addressed how the advent of new wireless technologies is set to revolutionize the telecommunications sector in Qatar and around the world.
Referring to Long Term Evolution or LTE, a high speed wireless data technology often discussed in reference to 4G mobile devices, Dr. El-Saigh said in no uncertain terms that, "LTE is the future. The whole universe will have LTE at some point in the future. LTE will fulfill its objectives and fulfill them very well."
An audience of industry practitioners, researchers and students engaged experts in a robust question and answer session, focusing largely on what the future held for the technology and for the industry. Panelists agreed that the future would be defined by the convergence of different industries utilizing wireless technology to offer enhanced services to customers and improve lives.
Qatar's ICT Sector grew at an average rate of 17 percent a year from 2006 to 2011 and from QAR12.8 billion to QAR15.5 billion between 2010 and 2011 alone - a 21 percent increase.
For the full story, please
click here
.