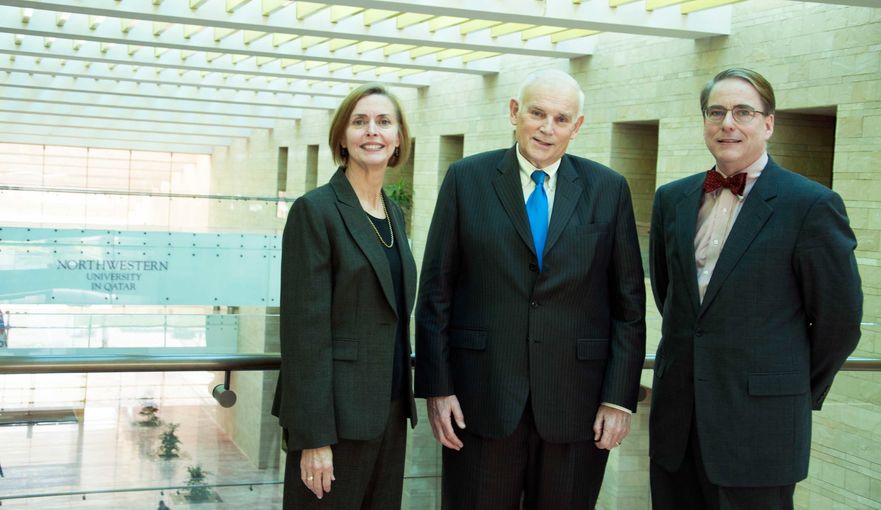 Northwestern University in Qatar has added two seasoned executives to its leadership team to start the New Year. Kathryn B Symank and Paul F Reilly join NU-Q in January 2014 as chief operations officer and director of media strategy, marketing and communication, respectively.
Symank joins NU-Q from Texas A&M University's home campus in College Station, Texas, where she held the position of associate vice president for human resources and administrative services. She has extensive administrative experience across operational fields such as finance, human resources, student services and other related areas.
Symank succeeds David Carr, a founding leader of NU-Q, who is returning to the Northwestern Evanston campus where he has been appointed as associate vice president of cyber infrastructure.
Reilly, a respected leader in advertising is NU-Q's first director of media strategy, marketing and communication. He comes to NU-Q from BBDO New York, where he was an executive vice president and senior director. BBDO is the world's most awarded advertising agency and the second largest global agency network.
A graduate of TAMU with a BS in psychology and a minor in history, Symank also earned an MBA at the University of Phoenix. Some of her most notable posts include chief of staff for the vice president for finance at TAMU and CFO, director of student business services.
As part of his new role, Reilly will bring leadership to current and new functions including internal and external communications, marketing, publications, digital media and others, in order to serve and align the needs of the school's outreach efforts.
To read the full article on Northwestern's website, please
click here
.