The Translation and Interpreting Institute (TII) at Hamad Bin Khalifa University's (HBKU) College of Humanities and Social Sciences (CHSS) has opened registration for the Ninth Annual International Translation Conference. The two-day conference, slated for March 27 and 28, will witness participation from local and international speakers and scholars, and will pose as a platform for knowledge-sharing as well as the effective exchange of ideas and research. Registration is possible through TII's online portal, and will extend until the first day of the conference.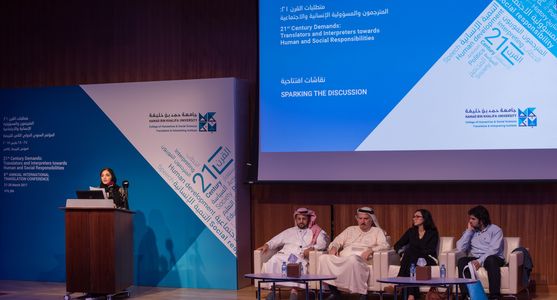 The annual conference, this year themed Translation in the Digital Age: From Translation Tools to Shifting Paradigms, will discuss and debate the latest translation and interpreting modes, tools and techniques that are today transforming the landscape of translation theory and practice. Dr. Amal Al Malki, founding dean of CHSS, noted: "We welcome participants from Qatar and around the world to attend the Ninth Annual International Translation Conference as we discuss issues that will continue to maintain relevance in academia and industry."
The Ninth Annual International Translation Conference's agenda includes discussions, panels as well as workshops with leading scholars and experts in the translation and interpreting fields. The opening panel will host experts in the digital and translation field, including Dr. Michaël Oustinoff from the University of Nice Sophia Antipolis to discuss the optimistic future of translation.
Additionally, Dr. Maeve Olohan from the University of Manchester will shed light on critical approaches to translation technologies. Joining the experts will also be Dr Jan-Louis Kruger from Macquarie University, who will delve into the cognitive side of translation and interpretation. Finally, Dr. Yaser Bishr, the executive director of digital at Al Jazeera Media Network, will illustrate the impact of digital media advancements on translation.
Some of the panels will touch on topics that include machine translation, translation for specific purposes, non-professional translation, translation for the web, as well as translation and manipulation. The workshops are expected to address issues that relate to translation technologies using the popular Trados platform as an example.
This year, the conference will host 37 speakers hailing from more than 19 countries, including Spain, Turkey, Qatar, India, USA, Finland, Morocco, China, Nigeria, Denmark, Ireland, Tunisia, Iran, Oman, Poland, and Canada. The conference is expected to provide a unique networking opportunity to all participants, as it will be widely attended by scholars and academics from local and international organizations; working professionals within the translation and interpreting industries; as well as university officials.
To register, please visit:
www.tii.qa/9th