Thousands of Nepali residents have benefitted from the four-year joint Reach Out To Asia (ROTA) and Vodafone Qatar initiative to improve the quality of education and build resilience to natural disasters into schools in Nepal.
The $3,000,000 project was carried out with support from Mercy Corps, ROTA strategic international partner- Action Aid Nepal, and other local groups including, the Forum for Awareness and Youth Activities (FAYA); and the Nepal Red Cross Society. The project was known as 'Improving Quality of Education and Building Resilience in Schools'.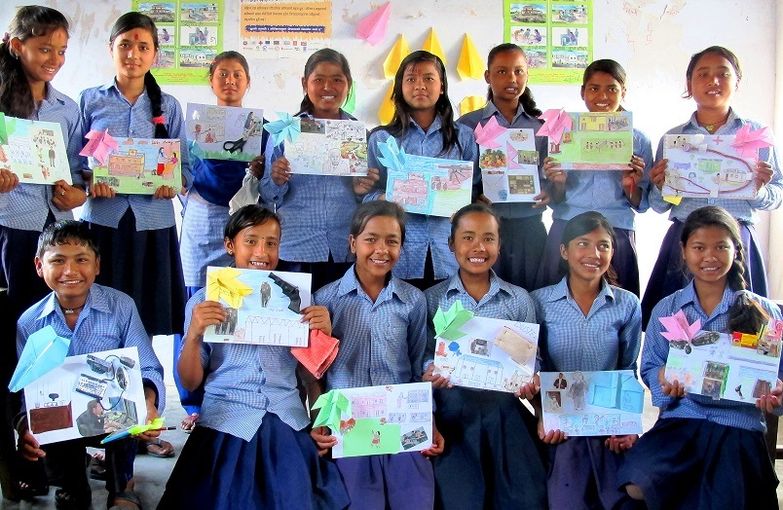 Nepal is prone to natural hazards. Out of 198 countries, it ranks 11th and 30th respectively with regards to earthquake and flood vulnerability. Each year, resulting disasters cause around 13,000 deaths in addition to significant loss of land and education infrastructure. Natural hazards destroy school buildings, as well as physical access to them. In many cases, schools are used as safe shelter by communities during disasters.
Working in 22 villages in the Kailali District of western Nepal, The Vodafone Qatar-Rota partnership, through the Disaster Risk Reduction (DRR) project, has improved the lives thousands of students and teachers in many schools since the mission started in 2010.
The effectiveness of Vodafone Qatar-ROTA project in Nepal was witnessed in July early this year, when the far West Nepal faced heavy rainfall during the third week of July 2013. As a result, many VDCs in the Far West were flooded and inundated.
"The DRR training from the project helped us immensely in reducing the flood impact", explains the President of Shree Shiva Lower Secondary School, Shantaram Chaudhary. "Apart from the flood mock drill, we had also learnt about the Early Warning System in the trainings, so, when it started to rain heavily, I was unable to sleep and I called the gauge reader of Likma River and we were informed to prepare ourselves, because there would be heavy flooding," Chaudhary added.
He further explains that he quickly shared this information with his community leader and he relayed this information to everyone in the village so they could all prepare themselves. "Everyone who got this information was able to escape the worst effects of the flood, because they had already safely located their important documents and other valuable items," said Shantaram Chaudhary.
According to the President of Shree Shiva Lower Secondary School, even people whose houses were inundated by the water were not severely affected by the flood. They had gathered their important materials, including food items, and had taken them to Shiva School.
"We were saved by the mock drills. Otherwise, we would have lost everything, the way we lost it in the 2009 flood. If they had not provided us with this training, I think our losses would have been greater compared to now. Now you can see we have our food, grains, important documents and even our cows and buffalos are safe and no one was injured by the flood on 19th July. Mock drills and the Early Warning System saved our lives and livelihoods".
For the full story, please click here.