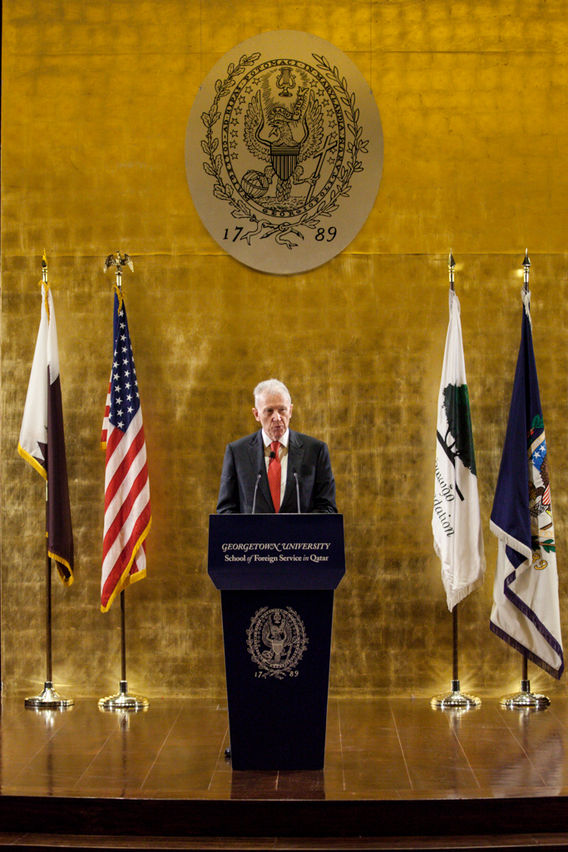 Pulitzer Prize-winning journalist Jim Hoagland gave a public lecture titled 'The Glass Half-Empty: Barack Obama and the Middle East' on the campus of Georgetown University – School of Foreign Service in Qatar (SFS-Qatar), recently.
Speaking to a large audience, Mr Hoagland shared his perspectives on the political landscape President Obama encountered in the beginning of his term in office, the challenges that brought, and the policy shift that took place over the course of his presidency.
"My job is to have opinions," began the journalist who started his illustrious career covering the history-changing events of the civil rights movement and Vietnam for
The Washington Post
newspaper.
He used the image of a glass containing liquid as a way to understand the way attitudes are shaped, and as a metaphor for the conflicting perceptions of different American presidents. "The Middle East represents a glass half empty to President Obama, as opposed to the half full glass that seemed to capture former president George W Bush's attention," he said.
"Half empty means it is drained, a wasting asset that will not return to its full abundant state. I'll explain why President Obama sees the region this way – a wasting asset – and seeks to create a new containment policy in the Middle East."
He described the President's worldview as one that seeks to limit engagement and risks in his Middle East foreign policy agenda, as increasingly complex domestic issues present further distractions. He concludes that the President should re-launch his foreign policy efforts with an eye to approaching regional issues through a more strategic global agenda, one in which the cup, or opportunity for positive outcomes, is half full instead of empty.
"To see this university putting forward the commonality of human experience, in teaching studying living here, you all live part of that global change. I speak to you as a historical optimist, something that has supplied my own 'glass is half full' frame of reference," concluded the respected journalist.
Reporting from Kenya, Hoagland won the first of his two Pulitzer Prizes for covering the anti-apartheid struggle in South Africa in 1971, resulting in the apartheid government's banning him from entering the country.
He won his second Pulitzer Prize in 1991 for covering the events that led up to the Gulf War, and the failures of Gorbachev's leadership. Hoagland continues to work at
The Washington Post
as Contributing Editor.
To read the full article on Georgetown's website, please
click here
.