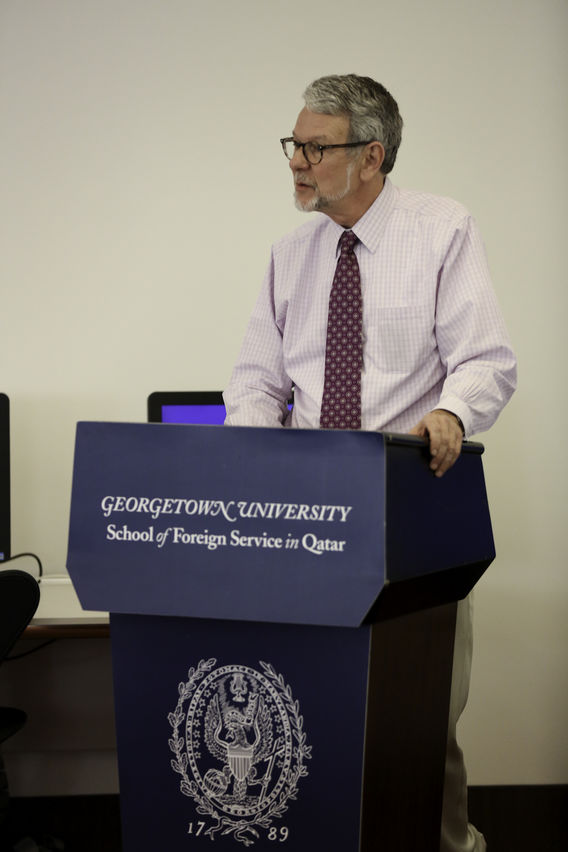 The trials and tribulations of an often overlooked victim of conflict, libraries, were the focus of a public lecture presented by Dr Sem Sutter, titled 'Habent sua fata libelli: The Fate of Libraries in Wartime' at the SFS-Qatar library.
Dr Sutter, who is currently the Associate University Librarian for Scholarly Resources & Services at Georgetown University's Lauinger Memorial Library in Washington, DC, surveyed the history of libraries in times of war, when "the enemy's books can become objects of hatred, fear, envy, reverence, or of uncomprehending disregard."
He began in Mesopotamia, where the earliest known libraries were comprised of small collections in cuneiform scribal academies as well as large reference collections of literary and scientific works.
"Not surprisingly, the earliest known systematic destruction of libraries took place in Mesopotamia, when the Babylonians and Medes defeated Assyria in 614-612 BCE," said Dr Sutter, noting that excavations of areas of large-scale destruction included the discovery of shattered written tablets.
Books, he continued, are often destroyed "not as physical objects, but as links to memory...when a group or nation attempts to subjugate another group or nation, the first thing they do is erase the traces of its memory in order to reconfigure its identity. Thus it is not surprising that some of the most violent and thorough destruction of libraries in history has occurred during late twentieth-century ethnic conflicts."
The 'ethnic cleansing' that took place in the 1990s during the Yugoslav Wars were accompanied by "cultural cleansing", where throughout Bosnia and Herzegovina, Muslim, Catholic and municipal libraries and archives were destroyed by nationalist Serbs.
Looting of books and libraries occurred on an unprecedented scale when the Third Reich, well known as destroyers of books, targeted Jewish, socialist and Masonic libraries. "Sometimes the stated goal was 'research and analysis' of enemies of the regime or the nation," said Dr. Sutter, "In other instances, the declared aims were enriching German library collections or restocking damaged libraries."
"And so it is in times of war," said Dr. Sutter, "that books, like people, have their fate; and those fates often intertwine."
To read the full article on Georgetown's website, please
click here
.