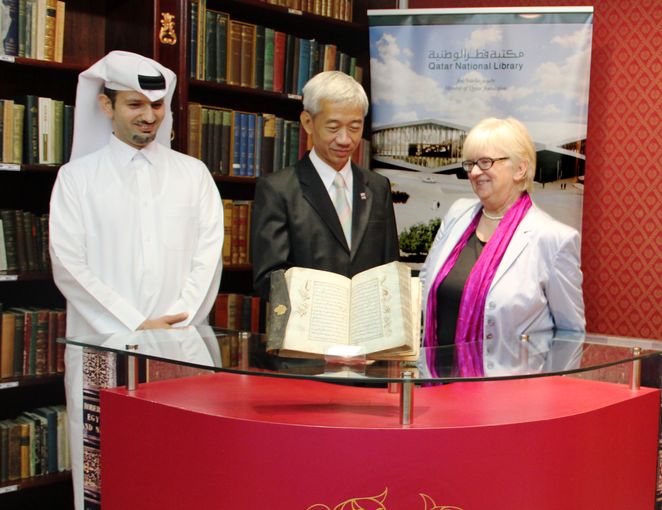 Qatar National Library (QNL) has received a precious and valuable 200 year-old Holy Qur'an as a gift from Thailand.
His Excellency Mr Panyarak Poolthup, Ambassador of Thailand to the State of Qatar recently visited QNL's Heritage Collection Building and donated the Holy book on behalf of his country, as part of the Thai Embassy's efforts to promote cultural relations with Qatar.
The Holy Qur'an was previously owned by Ustaz Yusuf bin Harun from the Southern Pattani Province of Thailand. It was hand written in Makkah by Al Sheik Al Khatib Hud bin Mahmoud in 1236 of the Islamic Hijriyah calendar.
The donated Holy Qur'an will reside in QNL's Heritage Collection Building and families, students, researchers and tourists can see, explore, and enjoy it, along with thousands of other books. It is an unparalleled showcase of historical sources about Qatar and the Arab World and includes writings by travelers and explorers who visited the Arabian Gulf region.
Amongst more than 100,000 works, the collection contains an edition of Ptolemy's Geographia, which was printed in Rome in 1478 and is the oldest printed map showing the name of Qatar, referred to in Latin as 'Catara'.
QNL's Heritage Collection Building is open for public tours every Sunday and Tuesday from 10.00am - 11.30am.For information about registering for a tour, visit
www.qnl.qa/visit-request-form
.
For the full story, please click here.