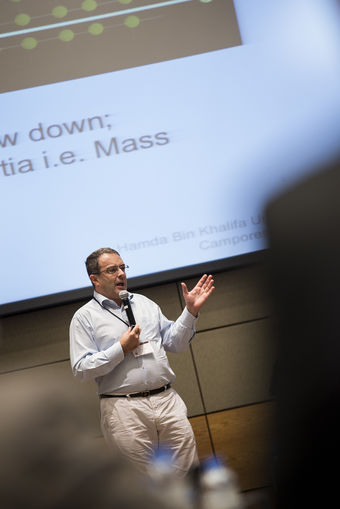 Texas A&M University at Qatar (TAMUQ) hosted representatives of the European Organization for Nuclear and Particle Physics Research (CERN) and visiting physicists to a workshop at Hamad bin Khalifa University (HBKU) Student Center on 21 October 2013.
The event was also attended by representatives of HBKU, Qatar Foundation Research & Development, Qatar National Research Fund, Qatar University, Texas A&M University and Texas A&M University at Qatar.
The workshop was titled 'Qatar: Path to the world's energy frontier in fundamental and applied science and technology' and explored opportunities for Qatar to join the international collaboration of nations leading the world in fundamental and applied sciences and technology.
Topics discussed during the daylong workshop included forming a Qatar Science Consortium to join research activities at CERN's Switzerland headquarters and at research centers in the US, and promoting the Qatar National Research Strategy (QNRS) and the Qatar National Vision 2030 (QNV2030) through the Qatar Science Consortium.
Fundamental questions were also posed about particle physics and cosmology, fundamental interactions and gravity, origin of mass and electroweak symmetry breaking.
Related research was included among discussion topics and included distributed computing, high speed digital electronics development, particle detector R&D, influence of high energy physics on the advancement of applied sciences, technology and education- and intellect-driven branches of national economies, as well as specific high-profile projects in detector and electronics R&D in which Qatar can take a significant role alongside US and European funding agencies.
For the full story, please
click here
.