Qatar's first High School Medical Conference (HSMC) has been held, inspiring students to forge a career in medicine or the sciences.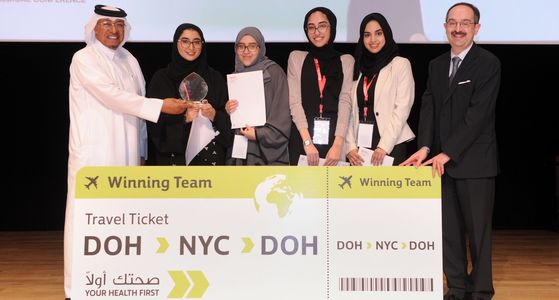 The conference was organized by Weill Cornell Medicine-Qatar (WCM-Q) at Qatar National Convention Center and comprised lectures and talks, workshops for teachers, a school exhibition, and student research presentations.
Noha Saleh, director of student recruitment and outreach at WCM-Q, said the aim was to offer students an experience that they don't usually have, to show them what a career in medicine has to offer, and to provide them with a platform to showcase their skills and knowledge.
A highlight of the conference were the research presentations. Schools across Qatar were given the chance to participate in a student research contest based on the UN's Sustainable Development Goals. Twenty-five teams from both independent and private schools entered and chose a topic under one of three following themes: Ensuring healthy lives and promoting well-being for all at all ages; ensuring access to water and sanitation for all; making cities inclusive, safe, resilient and sustainable; and ensuring sustainable consumption and production patterns.
They then took part in a poster presentations competition last March. Fourteen teams made it through to the finals at the High School Medical Conference with the top three then selected by a panel of WCM-Q research experts. The winning team from Qatar International School received a fully-funded, one-week trip to WCM-Q's parent campus in Ithaca in the United States, while the runners-up - 2nd placed Bright Future International School received iPads and invitations to attend a research symposium at Sidra Medicine, and 3rd placed Musab Bin Omair Secondary School – received gift vouchers and were also invited to the Sidra Medicine event. The flights were provided for by Sahtak Awalan – Your Health First, WCM-Q's health campaign.
In addition to the presentations, the student delegates also heard from Fawziya Al-Khater, assistant undersecretary for educational affairs at the Ministry of Education and Higher Education, Dr. Marco Ameduri, associate dean for pre-medical education at WCM-Q, and three WCM-Q alumni: Dr. Aisha Al-Yousuf, Dr. Khalid Al-Khelaifi, and Dr. Karima Becetti.
Although the main focus of the conference is raising awareness about the careers that medicine has to offer, science, technology, engineering and math (STEM) will remain a fundamental core that will enhance and support the national economy.
The conference presents a great platform to engage educators across these various disciplines to achieve an integrated approach for students and prepare them for the future.
To read more, please click
here
.