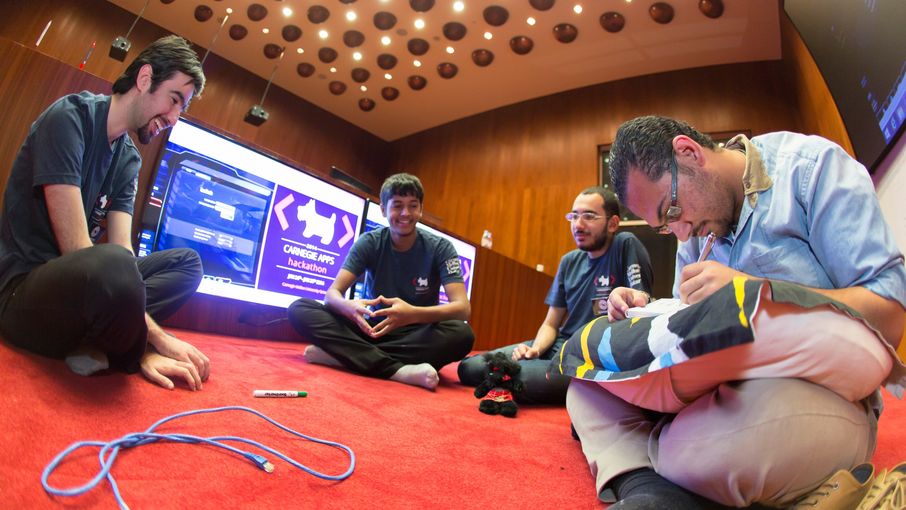 Led entirely by students, Carnegie Mellon University in Qatar held the second edition of its Hackathon competition during the weekend of 24-26 January 2014. Sponsored by Vodafone Qatar, the Carnegie Apps Hackathon brought together students from across Qatar to build cool mobile applications and games that can make a difference in the way we use technology.
More than 40 students from Carnegie Mellon Qatar, Qatar University, AlJazeera Academy, and Newton International School took part in the Hackathon and were mentored by Carnegie Mellon alumni and representatives from industry giants including Vodafone Qatar, Microsoft and Williams F1. Students also had the opportunity to network with peers and professionals.
Students demonstrated the innovative technologies they created to a panel of judges from Microsoft and Vodafone, who selected the winning applications based on their design, idea and creativity. Prizes included Blackberry Q10's and iPads.
This year's winning team for the best overall app, 'V-Hack,' created 'Tweetmotions,' an application that extracts emotions from live tweets, enabling the user to characterize emotions associated with certain terms, names and brands.
As part of the competition, participants had the opportunity to better understand computer science through talks and interactive workshops on topics such as application design and entrepreneurship, which teach students how to think about solving computational problems and moving tech ideas from concept to reality.
To participate, all you need is an idea that people will use, that does not already exist and that can be developed in 24 hours.
For more information about the Hackathon, visit
www.carnegieapps.com
For the full story, please
click here
.