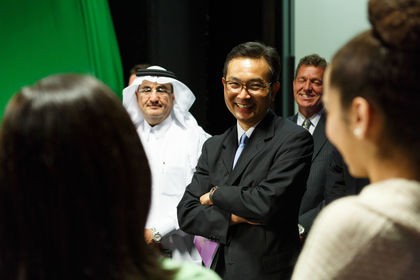 Northwestern University in Qatar students discussed their experiences in technology and new media with Shoji Nemoto, executive vice president and corporate executive officer of Sony Corporation.
Nemoto, who was in Qatar exploring opportunities to contribute to Qatar's media industry, heard from students on their work to design and communicate messages during their studies at NU-Q, as well as their internships at leading media organizations such as the
Al Jazeera
Network and
The Economist
.
Commenting on the wide range of backgrounds students hail from, Nemoto said, "I personally believe as someone who oversees the research and development at Sony that diversity drives innovation. I am very encouraged by the enthusiasm and passion I see among young people in Qatar to drive the new media industry, and am looking forward to working with them to convey experiences across continents, and to integrating hardware, entertainment and storytelling."
Nemoto was accompanied on his tour of campus by Dean and CEO of NU-Q Everette Dennis and Bader Darwish, CEO of Darwish Holding.