The growth in sport communications will be the topic of a series of masterclasses being offered by Northwestern University in Qatar (NU-Q). Over the course of three weeks in February, three one-day masterclasses will be offered to communications professionals to participate in a specialized program delivered by industry experts in sport media, marketing, and law.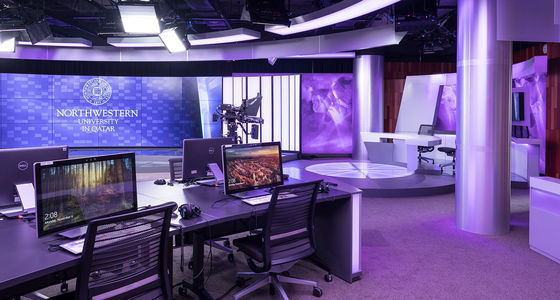 The program – "The Changing Business of Sport and Sport Communications" – begins February 10th with the first masterclass, "Media Old and New, and the Transformation of World Sport"; the second, "Sport Law and Governance – The Rules that Regulate Sport Organizations" will be held on February 17th; and the third, on February 24th.
The faculty who will be teaching the masterclasses are media experts who have decades of experience in sport, media, and the law. Mark Conrad, associate professor of law and ethics, and director of the sports business concentration at Fordham University; Candy Lee, professor of journalism and integrated marketing communications at Northwestern University; and Craig LaMay, associate professor in residence in the journalism and strategic communication program at NU-Q.
The program is designed to give young professionals a practical education that involves interactive activities and discussions on sport communications. The first masterclass, "Media Old and New, and the Transformation of World Sport," will be taught by LaMay, who is also overseeing the full program.
LaMay, a former associate dean at Northwestern's Medill School of Journalism, Media, Integrated Marketing Communications, is currently on leave from his position as associate professor at the Medill School. He has authored several books on media policy and press freedom, has also published research articles in the New York Times, Wall Street Journal, Washington Post, Newsweek, Federal Communications Law Journal, Health Policy, Communications and the Law, and many others.
The second masterclass, "Sport Law and Governance – The Rules that Regulate Sports Organizations, "will be taught by Mark Conrad, a highly regarded specialist in sport business and law.
Conrad specializes in sport law and the business and ethics of sport. An avid sport law blogger and author of The Business of Sports — Off the Field, In the Office, On the News, Conrad is widely published in this area and has been quoted in The New York Times, Boston Globe, and Chicago Tribune, and has appeared on CNN and Bloomberg TV.
February's masterclasses will be offered to individuals with undergraduate degrees and a minimum of two to three years of professional experience. An NU-Q certificate in Sport Communications will be awarded for completion of all three masterclasses.
The program will take place over three consecutive weekends in February. For more information and to register, visit http://www.qatar.northwestern.edu/education/executive  
To read more, please click
here
.