Sidra Medical and Research Center recently participated in the Summer Career Camp 2014. Sidra welcomed over 50 secondary school students to a field trip to the Sidra Simulation Center.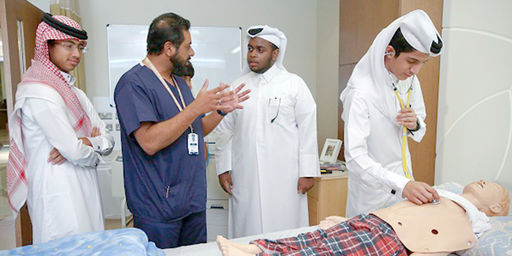 Organized by Sidra's National Development division in partnership with Qatar Career Fair, the students were introduced to Sidra's Simulation team and were given an overview of the center and its different specialties. They were also able to try various simulation activities including respiratory techniques and life-saving procedures.
Several of the students who attended the field trip to the Sidra Simulation Center were motivated by their experience at the center and expressed their interest in learning more about healthcare.
"This field trip really changed my mind about the medical sector. I especially liked the training when it comes to the treatment of mothers and babies," said Sheikha Al Harmi, Newton International School.
The Sidra Simulation Center is a world-class facility that provides simulation education to Sidra staff, affiliated medical students and relevant stakeholders who care for women and children. It specializes in preparing them for their clinical experience.
For the full story on Sidra's website, please
click here
.