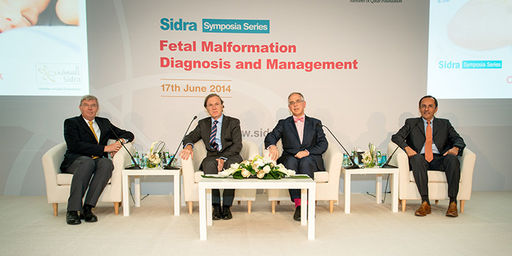 Sidra Medical and Research Center and international experts discussed the prevention and treatment of fetal malformation, a problem that results in approximately 3.2 million disabilities every year globally, during the Sidra Symposia Series event.
Fetal malformation, also known as birth defects or congenital malformation, is a problem that happens while a baby is developing inside the mother's body. Most birth defects occur during the first three months of pregnancy. The most common serious congenital disorders are congenital heart defects, neural tube defects and Down's syndrome.
Birth defects are a diverse group of disorders, which may be caused by a wide range of factors, including inherited disorders caused by gene defects or chromosomal abnormalities, maternal exposure to chemicals, medicines or drugs such as alcohol or tobacco or infectious diseases, such as syphilis and rubella (German measles). Unfortunately, for most birth defects, the cause is unknown.
Screening of newborn infants for birth defects is essential for early detection of many birth defects. In 2003, an expanded national newborn screening program for metabolic and endocrine disorders was established in Qatar in collaboration with the University Children's Hospital of Heidelberg, Germany. The screening involves more than 30 disorders and includes all live births in the country. More recently, the National Premarital Screening and Counseling program was established in Qatar.
To advance care in the country, Sidra is developing a Center of Excellence in Fetal Therapy. This Center will not only diagnose, but offer state-of-the-art treatment for the fetuses when they are still inside their mothers.
To read the full article on Sidra's website, please
click here
.