Sidra Medical and Research Center has been awarded accreditation by the Qatar Council for Healthcare Practitioners (QCHP). Effective from 1 January 2016, this is an important milestone as Sidra is now an accredited Continuing Medical Education/ Continuing Professional Development (CME/CPD) Provider.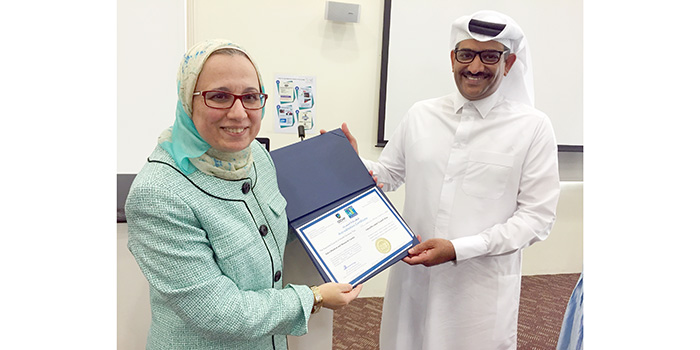 The practice of health care is constantly changing. There are new developments in all fields that require practitioners to update their practice.As part of the National Health Strategy, the Qatar Council of Health Care Practitioners instituted mandatory CME/CPD requirements for all healthcare practitioners licensed in Qatar.
CME/CPD is the process by which healthcare providers are engaged in continuous learning and stay abreast of new knowledge, skills and professional attributes that enable them to provide the highest quality patient care. Following the accreditation, Sidra is, therefore, eligible to provide CME/CPD credits according to QCHP and the Royal College of Canada International (RCCI) criteria and standards.
Dr. Abdulla Al Kaabi, Acting Chief Medical Officer at Sidra, lauded Sidra's accreditation team during a recent celebration with QCHP. He thanked the Sidra physicians, nurses, pharmacists, allied health practitioners and administrators who spent countless hours on building the CME/CPD infrastructure. He also acknowledged those who planned and implemented quality CME/CPD educational activities that were used as evidence to support the QCHP accreditation application.
Dr. Samar Aboulsoud, Acting CEO of QCHP congratulated Sidra on its accreditation. She acknowledged Sidra's commitment to providing quality healthcare and continuing education for healthcare practitioners in the State of Qatar. Dr. Samar is looking forward to the CPD/CME opportunities that Sidra will be offering to its staff and the wider healthcare community in Qatar.
Sidra is one of four institutions that participated in the QCHP and RCCI Pilot Program for a new and more stringent standards and criteria.Sidra remains committed to being a groundbreaking hospital, research and education institution, focusing on the health and wellbeing of children and women regionally and globally.