Fourteen students from Georgetown University – School of Foreign Service in Qatar's (SFS - Qatar) Zones of Conflict, Zones of Peace (ZCZP) program took advantage of their summer vacation and visited South Africa, stopping in Johannesburg, Pretoria and Cape Town to explore the issue of post-apartheid reconciliation in depth.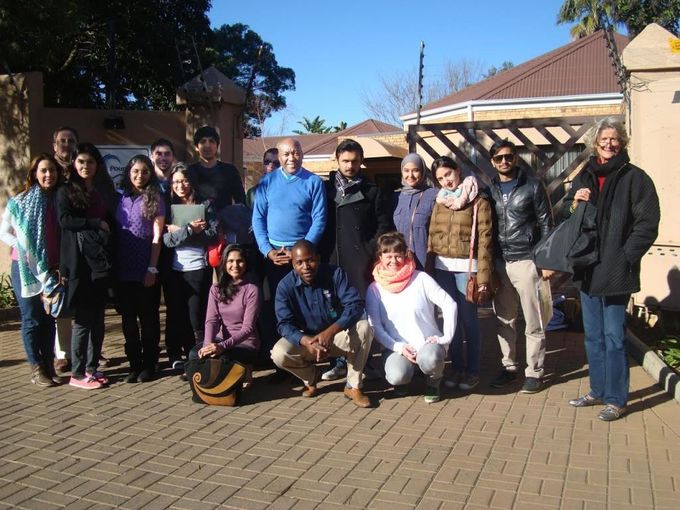 Over the course of 10 days, students learned how the country continues to work to overcome the system of racial segregation that was legal in South Africa from 1948 to 1994. Previous ZCZP programs have visited Poland/Germany, Northern Ireland and Rwanda among others to study the impact of conflicts in those countries. This year's trip to South Africa ran from 12 June to 21 June, and was designed to help students understand the challenges that South Africans face today, including extreme economic inequality and debates over immigration and crime.
Students visited museums and cultural districts such as the Apartheid Museum, the former Sophiatown area of Johannesburg, the township of Soweto, and the District 6 Museum in Cape Town, to name a few. Students additionally participated in several community initiatives with children including an in-depth walking experience in Cape Town's first township, Langa, and an afternoon spent with the Kliptown Youth Project in Soweto.
The program in South Africa included stopovers at two universities: the University of Witswatersrand in Johannesburg and the University of the Western Cape outside of Cape Town where students met with students and professors to learn about today's economic and social realities.
Zones of Conflict, Zones of Peace is a co-curricular program open to any student who completes the application and meets the requirements of attending weekly non-credit classes and completing all required readings and blog posts. The course focuses on conflict management and conflict resolution as well as the specifics of the particular conflict.
Accordingly, the program offers students the unique opportunity to study current events as well as to apply the critical thinking skills they learn in the classroom to a situation in the field.
To read the full article on Georgetown's website, please
click here
.