More than 60 of Qatar's brightest school students are taking part in the prestigious Future Engineers and Summer Engineering Academy (SEA) programs 2-13 July at Texas A&M University at Qatar.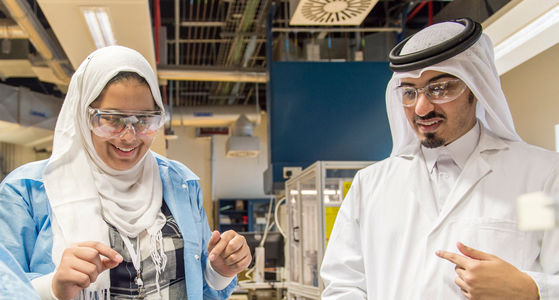 The two programs form part of a broader initiative called Dhia: Engineering Leaders, a partnership between Texas A&M at Qatar and longtime collaborator, Maersk Oil Qatar. Dhia aims to entice young Qataris to choose educational pathways in science, technology, engineering and mathematics (STEM), which are critical to the success of the Qatar National Vision 2030.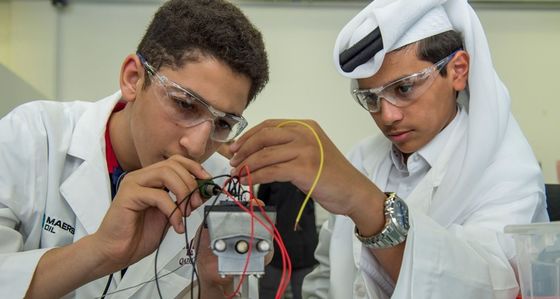 SEA is an elite academic enrichment program for 24 academically outstanding grade 12 students who have been named National Vision Scholars. SEA introduces students to advanced topics in engineering and science while teaching important problem-solving skills. The students are working with Texas A&M at Qatar faculty and technical laboratory staff on real-life, relevant, hands-on research projects related to Qatar's research challenges in energy, environment, health care and cybersecurity. The teams also are learning how to communicate their technical ideas and will present their research findings at the end of the two-week program.
Topics under investigation this year include designing a smart construction helmet that will improve the health and well-being of workers in Qatar by protecting them from the blazing heat of the summer sun; experimentally evaluating different water desalination technologies; understanding the phenomenon known in the oil and gas industry as "viscous fingering," which can cause issues in oil production; and using voice identification software to recognize and identify voices based on inflection, pitch, cadence and accents to enhance cybersecurity.
In Future Engineers, which runs parallel to SEA, more than 30 students in grades 10, 11 and 12 are working on a desert emergency kit that will include an emergency communications device and a water desalination kit.
During the 10-day program, the future engineers are 3D modeling and printing the enclosure, soldering the electrical components, and assembling the walkie-talkie. In the chemical engineering labs, they experiment with different types of water to investigate respective purity levels. Participants in Future Engineers will brainstorm other tools and equipment that should be included in an emergency kit and prepare a poster and presentation of their findings.
Student participants also partake in presentations, including talks on the Arab scientific renaissance and Qatar's grand challenges for engineering, demonstrations of chemistry and physics concepts, and a visit to Texas A&M at Qatar's Immersive Visualization Facility. Students in both programs are also learning interviewing skills and how to design technical documents, as well as how to apply to Texas A&M at Qatar.
To read more click
here
.