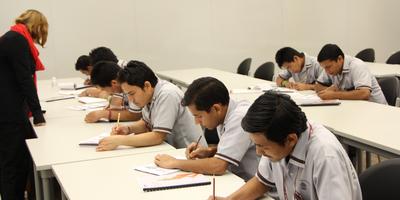 Inspired by the success of Adult English Literacy initiative for low skilled migrant workers, Reach Out To Asia (ROTA), is all set to start a pilot Adult Arab Literacy skills course.
The program sponsored by Qatar Petroleum, will give 50 migrant workers the opportunity to develop their ability to effectively communicate at a basic level in Arabic in their daily activities.
Prior to becoming trainers, the volunteers attended a one-day training program organized by ROTA. The training covered practical information relating to teaching Arabic, communication across language barriers, and global migration. At the end of the training, Literacy Trainers were given a personal copy of the RAAL curriculum.
Starting this month, the pilot Arab literacy skills course will be conducted over a period of six weeks, and for this ROTA has partnered with Qatar University and Fanar to develop a model for teaching basic adult Arabic literacy to low-skilled workers employed at Qatar University and ROTA.
The RAAL initiative is a result of a survey carried out by ROTA, which suggested that 55 percent of low-skilled workers did not have any Arabic literacy skills, while 45 percent of workers appeared to have a fair degree of spoken Arabic with no reading or writing skills.
A key feature of the program is that it offers opportunities for young people in Qatar to take part in an experiential service learning opportunity, developing their skills and knowledge as RAAL Literacy Trainers and Champions.
To be known as ROTA Adult Arabic Literacy program (RAAL), this Arabic literacy initiative aims to educate workers coming from diverse languages and cultural backgrounds to attain the fundamental skills of modern standard Arabic, and develop the students' desire and commitment for continuing learning Arabic.
For the full story, please
click here
.