Reach Out To Asia (ROTA) recently hosted a 'Training for Trainers' workshop, part of its Adult English Literacy (RAEL) program, at Hamad bin Khalifa University (HBKU).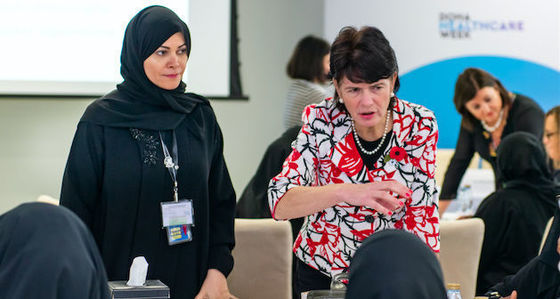 Aimed at volunteer tutors, the 'Training for Trainers' course covered a range of topics, including ROTA's literacy curriculum, issues facing low-income migrant workers, methods to effectively facilitate adult learning, and community-based learning tools.
Participants from Georgetown University School of Foreign Service in Qatar; Carnegie Mellon University in Qatar; Weill Cornell Medicine in Qatar; Northwestern University in Qatar; the Academic Bridge Program; the HBKU Student Housing English Language Program; Doha Expressway (CH2M HILL), a project of Ashghal; and the Light Railway Transit System (LRT), a project of Qatari Diar VINCI Construction (QDVC) took part in the training course, designed to equip volunteer tutors with the necessary skills to effectively facilitate the RAEL initiative.
Silvia Pessoa, Ph.D., course trainer, said: "It's a privilege to be working with such an enthusiastic group of student tutors who are passionate about making a difference to the lives of others. Training the RAEL facilitators to become competent literacy tutors ensures migrant workers will reap the maximum benefits from the Adult English Literacy program."
This year, 70 student volunteer tutors attended the 'Training for Trainers' capacity building course to gain a better understanding of migrant workers' backgrounds and acquire skills that will enable them to adequately facilitate the English literacy program.
As part of the program, 260 volunteers will teach basic, intermediate, and advanced level English classes to a total of 500 workers, including cleaners, pantry staff and other support staff, employed at six universities within Education City.
For the full story, please click
here
.