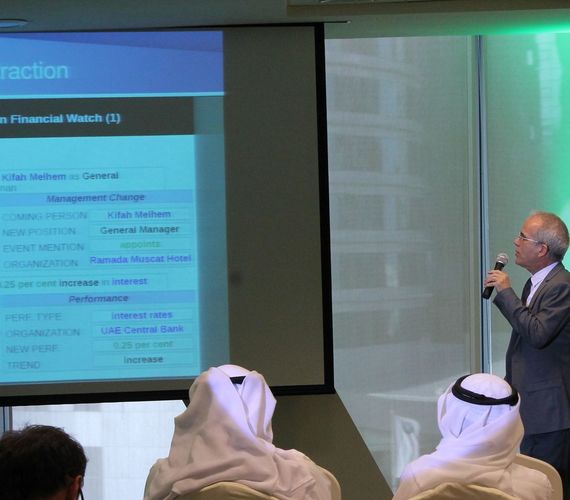 Qatar National Research Fund (QNRF) recently hosted the third in the series of Qatar Foundation Research & Development (QF R&D) Research Outcomes Seminars (ROS), which highlighted innovative research projects in the field of Information and Communications Technology (ICT).
The ROS are a QF R&D initiative designed to provide researchers with a public platform to share the results of their QNRF-funded cutting-edge research projects.
Dr Ali Jaoua, Professor from the Computer Science and Engineering Department at Qatar University, presented his innovative text mining platform, comprising a set of tools designed to extract and analyze information pertaining to online financial data in Arabic and English and adaptable to several other languages. Decision-makers can then be alerted to any newsworthy developments that are identified.
Dr Daniele Trinchero, professor and Director of iXem Labs Foundation at Politecnico di Torino, Italy, and Dr Abdullah Kadri, Senior R&D Expert from Qatar Mobility Innovations Center (QMIC), presented an innovative solution to monitor underground civil infrastructures for fluid transportation and distribution.
The researchers' technology uses microwave wireless sensors that can flow inside pipes to determine the presence of existing or potential leakages by monitoring variations in noise levels produced by fluid flowing in the pipe.
For the full story, please
click here
.