A study by researchers at Weill Cornell Medicine-Qatar (WCM-Q) has revealed the genetic cause of a neurological disorder and the implications it has for marriage.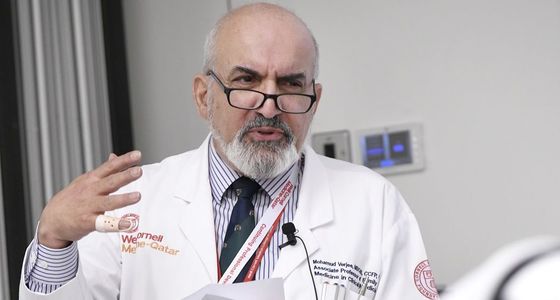 The research examined the genetics behind cerebellar ataxia, a congenital malformation of the brain whereby the total volume of the cerebellum – a part of the brain that regulates muscle activity at the back of the skull - is diminished. This can result in the sufferer having problems walking, poor coordination and a tendency to be a 'late developer' as a child. Cerebellar ataxia can also be associated with poor muscle tone, lack of coordination and learning disabilities.
However, because cerebellar ataxia is often an inherited disease, it could have major implications for the consanguineous marriages that are common in Qatar. When the mutated gene that causes the disorder is expressed in a recessive manner, both parents have to have the same recessive gene for some of their children to be affected. Because genes are inherited, it is much more likely that people within an extended family carry the same genes. Therefore, a consanguineous marriage within a family who carry the mutated recessive gene is much more likely to lead to cerebellar ataxia in the children of that marriage. The implications of such a marriage should, therefore, be carefully thought about and genetic screening considered.
Collaborating investigators from Weill Cornell Medicine-Qatar, Weill Cornell Medicine in New York and Hamad Medical Corporation have now discovered an unusual recessive mutation that leads to cerebellar ataxia. Their results were recently published in the Annals of Neurology, a highly influential journal in the field. The study, entitled 'Mutation in non-coding RNA, RNU12 causes early-onset cerebellar ataxia', was carried out by a team of doctors and scientists including lead researcher Dr. Alice Abdel Aleem, WCM-Q's assistant research professor of neuroscience, and assistant research professor of neurology, along with Dr. Elizabeth Ross, the Nathan E. Cumming professor of neurology and neuroscience, and chair of the Neuroscience Graduate Program at WCM in New York; Dr. Mahmoud Fawzy Elsaid, senior consultant pediatric neurologist in the Department of Pediatrics at Hamad General Hospital; and Dr. Tawfeg Ben-Omran, senior consultant and head of clinical and metabolic genetics at Hamad General Hospital.
For the full story, please click
here
.