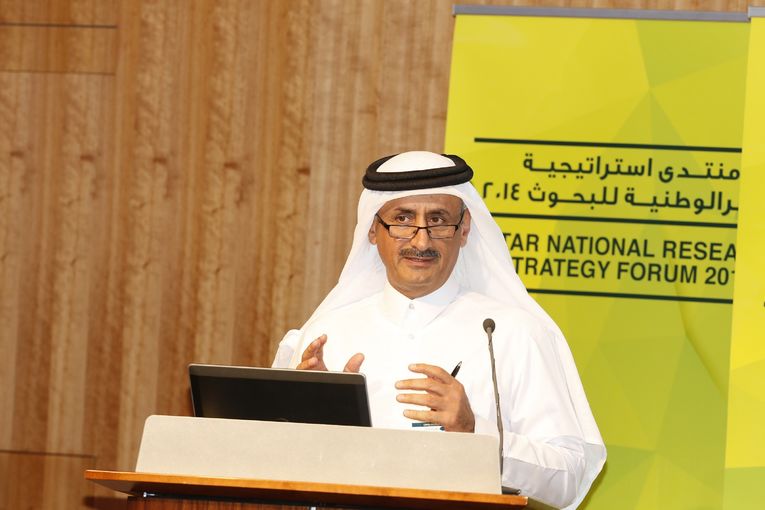 Representatives from Qatar Foundation Research and Development (QF R&D) stressed their commitment to fostering greater collaboration among the nation's leading stakeholders gathered at this year's Qatar National Research Strategy Forum 2014.
The forum, which took place from 12 to 15 May at the Qatar National Convention Centre, brought together prominent representatives from key sectors, including academia, government, and research institutes. The four-day gathering provided attendees with an ideal platform to share their ideas, while identifying new ways to address Qatar's pressing needs.
With the aim of tackling the nation's grand challenges in the field of research and development, participants attended a series of workshops and discussed pertinent issues within cyber security, energy and water security, as well as healthcare.
QF R&D will be producing a report that summarizes the findings and conclusions from this year's forum.
Mr Faisal M. Alsuwaidi, President of Research and Development at Qatar Foundation, emphasized the significance of nurturing partnerships, in line with the Qatar National Vision 2030. To ensure the alignment of goals between all sectors, he urged attendees to embark on further collaboration that can advance the nation's research agenda.
He said: "We are focused on exchanging ideas and building stronger relationships with our partners. We promised our partners from the very beginning that the Qatar National Research Strategy will be an interactive process, and that we will meet on an annual basis to advance our goals and priorities, which have been reflected in this strategy.
"I believe we are on the right track, and I am extremely optimistic that our joint efforts will contribute in important ways to our country's future."
Qatar National Research Strategy (QNRS) was introduced in 2012 to guide all research and development investments in Qatar and provides a national framework to align the country's priorities with stakeholder capabilities and interests.
The strategy, which is being implemented by Qatar Foundation's research institutes, universities, service providers, government, industry and funders, is expected to enhance the cycle of innovation from university research to commercialization.
QNRS represents the first research and development sector-wide strategy in Qatar and defines five pillars or themes to achieve the country's aspirations: Energy and Environment; Information and Computing Technology; Health and related Life Science and Technologies; Social sciences, Arts and Humanities, as well as enterprise-wide interdisciplinary research and development.
For the full story, please
click here
.