Qatar Foundation (QF) has highlighted the international certification of several of its member organizations at a high-profile recognition ceremony attended by the organization's Group Executive Director Administration, Mr Fahad Saad Al Qahtani and Mr Jassim Telfat, the Group Executive Director – Capital Projects and Facilities Management.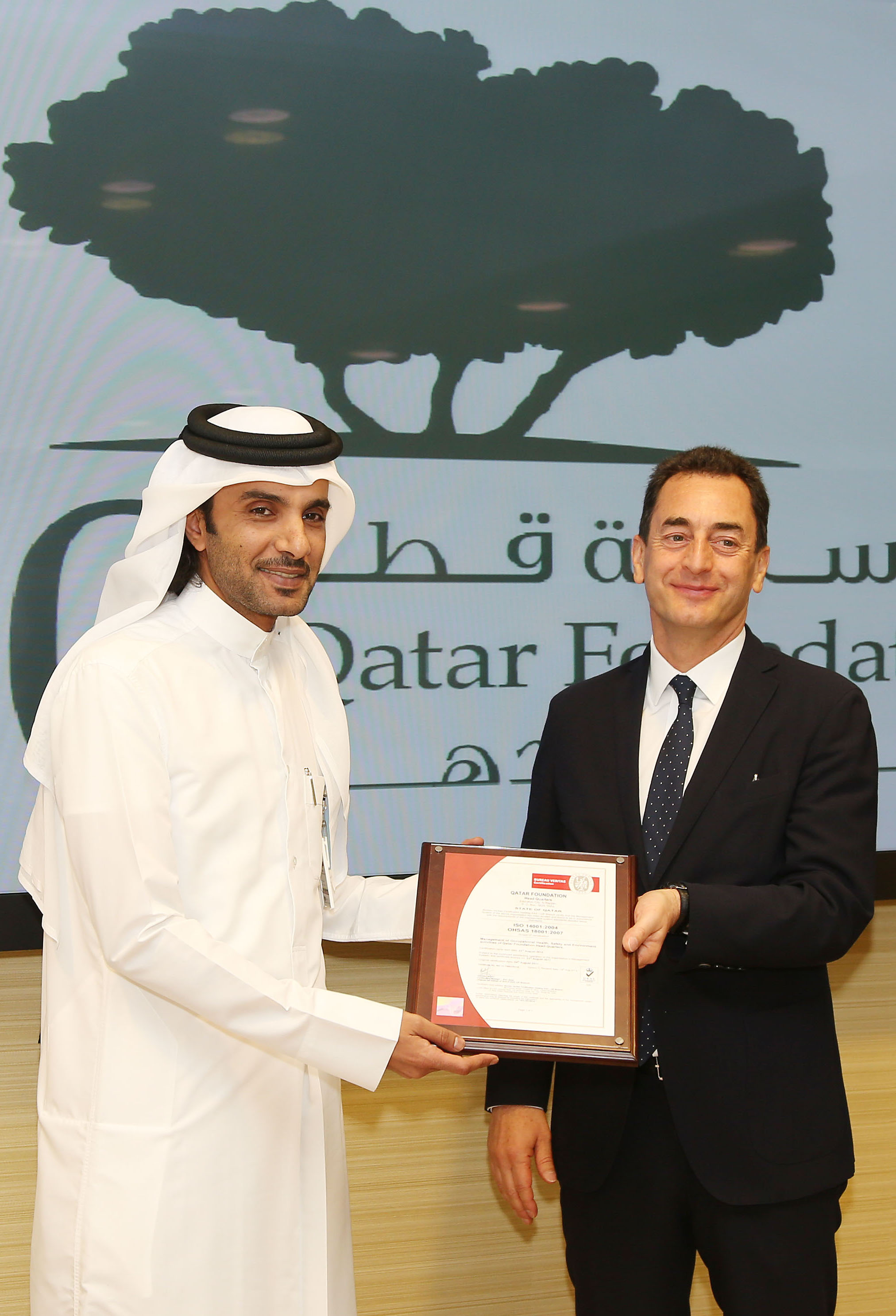 Held at Education City, the event saw the Ambassador of France to Qatar, His Excellency Eric Chevallier, present an array of awards and sought-after workplace standards certificates granted to QF by Bureau Veritas, a global leader in Testing, Inspection and Certification.
Amongst those honored at the ceremony were representatives of QF member Reach Out To Asia (ROTA), QF's Health, Safety, Security and Environment (HSSE) Directorate and QF's IT Directorate, with His Excellency noting that all have maintained "a culture of excellence," whilst working to achieve QF's mission to unlock human potential.
Mr Al Qahtani said: "At QF, we believe that certifying ourselves to international standards achieves certain strategic goals for us as an organization, because it ensures our operations are efficient and that we are providing a high quality, safe and welfare-conscious environment. This, in turn, ensures we are fully utilizing our potential as we look to establish a high-performing and collaborative culture here in Qatar. We are delighted to be joined at this ceremony by our friends from the French Embassy in Doha and to be recognizing the consistently high standards that this organization has displayed since its founding 20 years ago."
In November 2014, ROTA became the first organization in Qatar and the first NGO in the Middle East to earn the international SA8000:2008 certification. This sought-after standards certificate is awarded to organizations that can display policies and procedures that protect basic human rights in the workplace. Meanwhile, in October 2014, ROTA also achieved ISO9001:2008 certification, an esteemed quality management achievement that recognizes the consistency and impact of the organizations programs.
Also present at the ceremony was Mr Mohammed Al-Suwaidi, Qatar Foundation's Executive Director of Operations, who collected a recognition certificate on behalf of QF's IT Directorate. In March this year, QF was re-issued with the internationally acclaimed ISO 27001:2013 certification, widely seen as the gold-standard for managing information security risks and information handling processes.
In addition, QF's HSSE Executive Director Sheikha Amal Al-Thani, also received an honorary certificate in recognition of the two international compliance certifications that her Directorate has been re-awarded over the last 12 months. Both the ISO 14001:2004 and the OHSAS 18001:2007 certificates follow vigorous audits over the past three years that confirm QF's consistent commitment to health, safety and environmental standards in its offices.
Commenting on these achievements, Sheikha Amal Al-Thani said: "At Qatar Foundation, we are paving the way at a regional level for consistently high health, safety and environmental standards within the workplace. It is an honor to have our efforts highlighted at an occasion such as this, and I am grateful to His Excellency for his kind words of recognition. I would like to share this achievement with all those who have assisted QF as we look to reduce workplace accidents, illnesses, and our environmental impact, whilst enhancing the welfare of all of our valued staff."
For the full story, please
click here
.