Qatar National Research Fund (QNRF), a member of Qatar Foundation (QF), has named a team from Qatar University (QU) as the winner of its 10th Annual Undergraduate Research Experience Program (UREP) Competition.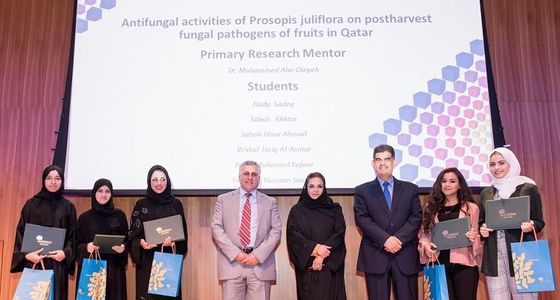 Launched in 2006, UREP provides undergraduate students across Qatar with hands-on experience of undertaking research projects alongside their studies, under the guidance and mentorship of faculty and experienced researchers. Its aim is to equip students with the skills, insight, and impetus that will enable them to pursue rewarding and impactful careers in science and research, and add to Qatar's pool of homegrown talent in this field.
More than 3,200 students from universities in Qatar have benefited from UREP over its lifespan, participating in 937 projects across 22 cycles. The top 25 percent of projects completed under the program in 2017 were selected to participate in the 10th Annual UREP Competition, with QNRF announcing the results during a ceremony held at Qatar National Convention Centre on April 5.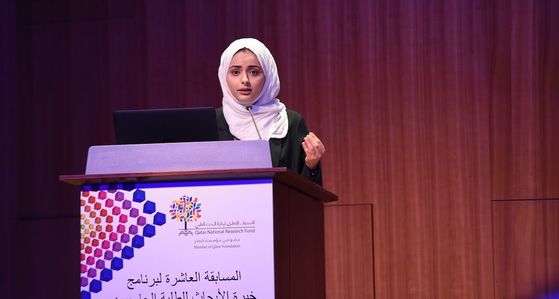 In total, seven projects – covering a range of areas including health; energy and environment; computing and ICT; and social sciences, arts, and humanities – were shortlisted for the competition, with each team giving a public presentation in front of a panel of judges. Four of the shortlisted projects came from QU, with two from Texas A&M University at Qatar (TAMUQ) and one from Northwestern University in Qatar, both of which are QF partner universities.
Projects were evaluated for the quality of their scientific and technological content, the degree of research experience that their teams gained, and the quality of their oral presentation to judges. First place was awarded to 'Antifungal Activities of Prosopis Juliflora on Postharvest Fungal Pathogens of Fruits in Qatar', a QU project that investigated the effect of an exotic plant on Qatar's biodiversity and agriculture.
The team were mentored by Dr. Mohammed Abu-Dieyah, Associate Professor, College of Arts and Sciences, QU, who said: "I feel very proud of these students, who have produced such a high standard of impactful research, which, if further developed and enhanced, has the potential for commercial application."
Teams from TAMUQ took the second and third places in the UREP Competition, with projects titled 'A Novel Experimentation on Demulsifying Crude Oil and Water Emulsions Using Ultrasonic Technology', and 'Development of a Novel Heat Sink with Wavy-Tapered Channels'.
To read more, please click
here
.