Qatar Green Building Council (QGBC) and the Qatar Society of Engineers (QSE) signed a Memorandum of Understanding (MOU) intended to optimize their collective resources and expertise.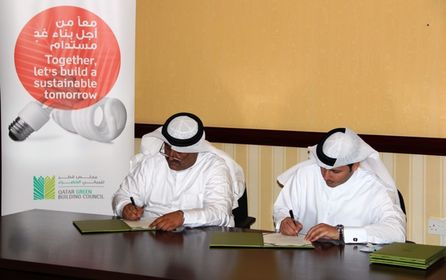 The partnership will help deliver professional education and training to enhance sustainability efforts within the construction industry, benefitting its stakeholders and the wider community. This goal will be achieved through joint research projects and outreach activities undertaken by both organizations.
The MOU was signed by Engineer Meshal Al Shamari, Director of QGBC and Ahmad Al Jolo, Chairman of QSE, and was attended by senior representatives from both organizations.
Eng. Al Shamari said, "This agreement serves to reinforce QGBC's commitment to the environmental pillar of the Qatar National Vision 2030, aimed at creating a sustainable society. To reach this goal, we need to raise awareness levels about the importance of green built environments, both in the industrial and public spheres, which is what this MOU will address in due course."
Al Jolo said, "It is an honor for us at QSE to team up with the prestigious QGBC in pursuit of such a noble cause. I am confident that our joint efforts to disseminate quality sustainability education will be of great value, not only to the construction industry, but to the general public as well."