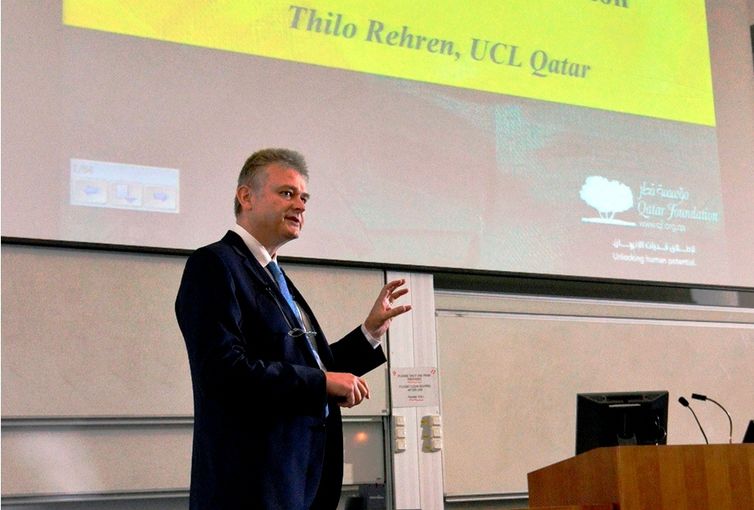 Qatar Foundation's (QF) UK Lecture Series has succeeded in once again cementing the Qatari academic community's global standing by revealing some of the unique research underway in its world-class universities and research institutions.
With 2013 marking a year-long initiative intended to celebrate the existing Qatari and British partnerships, as well as develop new ones, Qatar Foundation contributed to this campaign by inviting a select group of Qatar's senior academics and researchers to deliver engaging discourses at various British universities, comprising a two-month-long lecture series.
Dr Thilo Rehren, the Director of University College London Qatar, delivered the first seminar of the series entitled, 'Glass in Ancient Egypt – Splendour for the Pharaoh,' at Durham University last month.
Journeying through archeological, iconographic and textual evidence from 500 years of ancient Egyptian history to uncover the importance of glass during this era, Dr Thilo highlighted the crucial role of glass as a substitute for precious stones in jewellery, architectural decoration, and diplomatic relations. He also drew parallels with the political importance placed on valuable commodities, such as oil and gas, in the modern-day era.
Dr Amira Sonbol, Professor of History at Georgetown University – School of Foreign Service in Qatar, delivered the second lecture in the series entitled, 'The Modern Arab Woman,' at the School of Oriental and African Studies last month. She unraveled the constructed narratives of the modern Arab women to uncover the importance of overlooked specificities, disjunctures and variations of women in the Arab world. Dr Sonbol delved into the experiences and struggles of Arab women and re-examined the existing legal sources to address women's history by questioning the conceptual basis of the diffusion of laws pertaining to women.
Highlighting the importance of Dr Sonbol's lecture, a representative from SOAS said, "We are considering hosting further talks on this subject."
Commenting on the QF UK Lecture Series, Bassem Al Shaarani, Deputy Director of Communication at Qatar Foundation said, "Qatar Foundation supports Qatar by being the engine driving its transformation into a knowledge-based economy by unlocking human potential and we achieve this goal through three pillars, one of which is education. World-class universities have been invited to Qatar to help create an environment that is conducive to research and development and the fruits of our efforts were brought to bear during the QF UK lecture series. Showcasing not only Qatar and Qatar Foundation's abounding success in a few short decades, but also the strong relationship between Qatar and the United Kingdom that pervades culture, diplomacy, commerce and education."
Dr Patrick Philippe Meier, Director of Social Innovation at Qatar Computing Research Institute (QCRI) delivered the final lecture of the series entitled, 'The Future of Next Generation Humanitarian Technology,' at Imperial College London (ICL) earlier this month.
The world's foremost leader in humanitarian technology, Dr Meier shared his future visions of crowd sourcing, multitasking and data science among other things, to discuss how emerging technologies in these areas are reshaping responses to crises, such as floods, typhoons and earthquakes.
Defining his field, Dr Meier said, "Disaster-affected communities today have become increasingly digital and are thus primary sources of real-time information following a crisis.Technology plays a key role in harnessing this "big data" for humanitarian purposes as part of the larger ecosystem of crisis information, providing responders with the most updated information, as well as augmenting response capabilities. I work with my colleagues at QCRI to leverage advanced computing through our expertise in big data analytics, machine learning, social computing and natural language processing to promote innovation and change for improving humanitarian crisis response."
During his lecture, Dr Meier explained QCRI's humanitarian technology platforms and applications, which have been employed by relief organizations responding to the earthquake in Pakistan, the tornado in Oklahoma and most recently, Typhoon Haiyan in the Philippines.
"We approach problems by developing solutions that combine machine computing with human (crowd) computing, which hasn't been done before," he said.
For the full story, please
click here
.