Qatar Foundation (QF) is to mark both World Water Day and Earth Hour this week with a series of events as part of the organization's commitment to promoting sustainability and environmental responsibility among the wider community.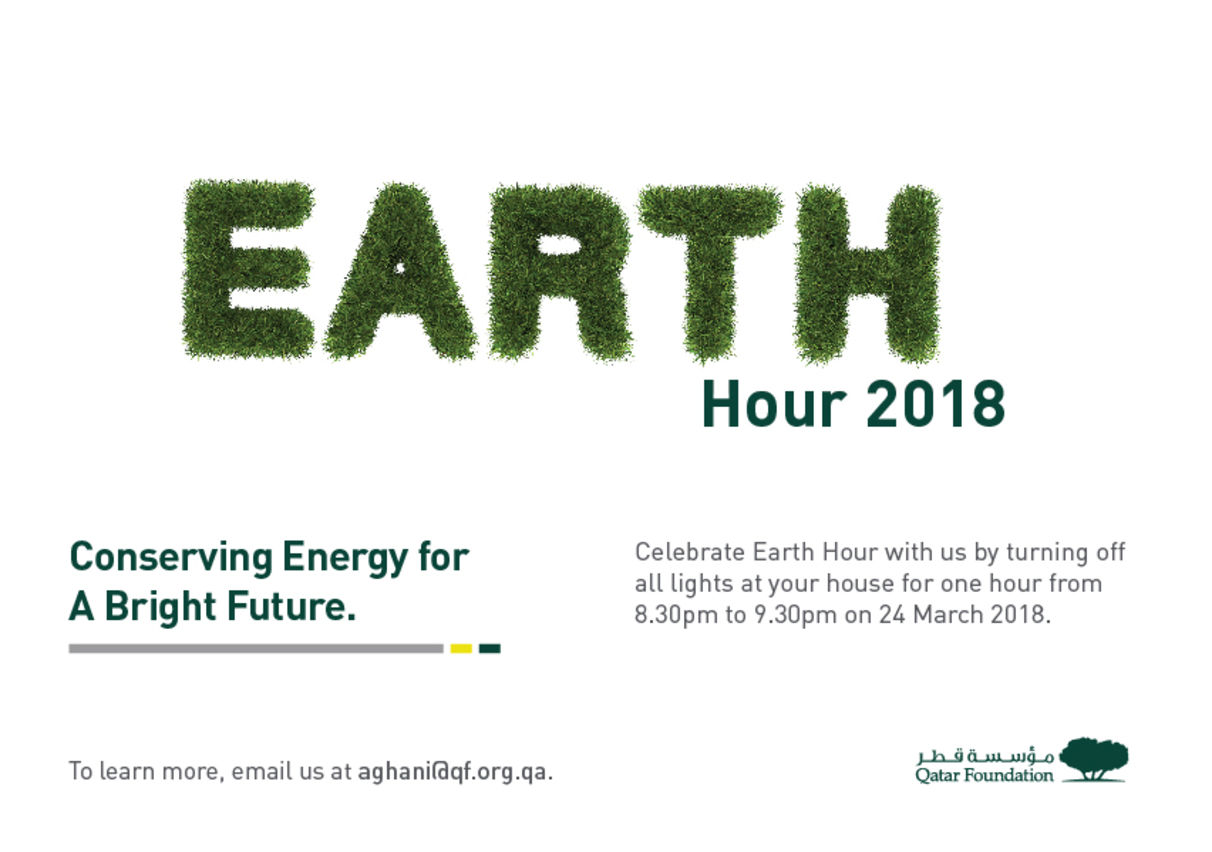 Ms. Nisreen N. Abdrabbo, Head of Environment Compliance, HSSE, QF, said: "Qatar Foundation is delighted to take part in these important global environmental initiatives. By celebrating World Water Day and Earth Hour, we are striving to promote community and student participation in our year-round campaign to raise awareness of sustainable development, water conservation, and environmental responsibility in Qatar and beyond."
QF will celebrate World Water Day on March 22 by hosting a dedicated information booth and competition at the Education City Student Center, highlighting the importance of water and water conservation for Qatar and the world.
Visitors to the booth are invited to guess the amount of water it takes to produce exhibited items including paper and plastic bottles. The competition is designed to inform the public about water use awareness and also motivate individuals to use the resource wisely.
Additionally, Qatar National Library will host a public event titled, 'STEM Day at QNL: Energy Saving through Water Conservation', highlighting how conserving water translates directly into saving energy, and the impact on the environment. The event will take place at QNL on March 22 at 5pm.
A number of QF centers and facilities across Education City will take part in a 'Lights Off' event on March 24 to mark Earth Hour – a global movement inspiring millions of people to take action for the planet and nature – including the Qatar National Convention Centre, QF Headquarters, and Virginia Commonwealth University School of the Arts in Qatar, as well as the Ceremonial Court.
QF is committed to developing innovative solutions to local and global environmental and energy challenges. This drive was recently demonstrated through a series of high-level sessions and presentations on energy and the environment at QF's Annual Research Conference (ARC'18), organized by Qatar Foundation Research and Development. Additionally, researchers at QF's Hamad Bin Khalifa University's Qatar Environment and Energy Research Institute play a key role in addressing energy and water security as two major challenges facing Qatar.