Delegates from Qatar Foundation Research, Development and Innovation (QF RDI) joined globally-renowned scholars, researchers, technologists, policymakers, and business leaders to explore how advances in science and technology are shaping the future for the better, during the Science Technology in Society (STS) Forum Annual Meeting.
The forum, which took place from October 7-9 in Kyoto, was held under the patronage of the Prime Minister of Japan, Shinzo Abe.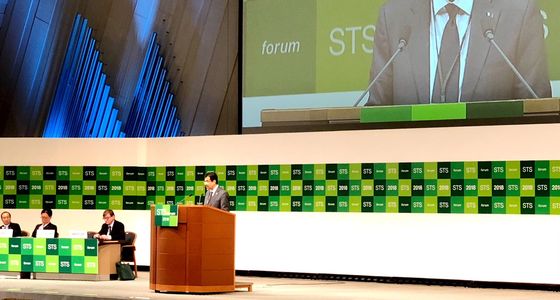 Dr. Nabeel Al-Salem, Chief Advisor Partnerships, QF RDI, formed part of the delegation representing QF RDI at the forum. and said: "We at QF RDI are delighted to be part of this forum and its annual meeting, having served as corporate member and lead sponsor since 2013.
"The STS Forum provides an impactful global platform for us to not only collaborate with our Japanese counterparts, but to also forge connections with a broad range of potential international partners working in areas of interest to Qatar. Learnings from the various themed sessions will find resonance among our societies as it is carried through the human network we establish and reaffirm here."
On the opening day of the forum, Dr. Al-Salem delivered a plenary talk titled 'Research and Innovation – A Qatar Foundation Perspective' where he highlighted the unique challenges facing nations such as Qatar, especially when pursuing growth and development in research and innovation.
Dr. Al-Salem's talk was followed by his participation in a panel discussion on 'Research and Innovation' along with Dr. Otmar D. Wiestler, President, Helmholtz Association of German Research Centres, Germany; Mr. Masashi Muromachi, Executive Adviser, Toshiba Corporation, Japan; and Dr. Thomas F. Rosenbaum, President, California Institute of Technology (CALTECH), US.
Dr. Richard O'Kennedy, Qatar Foundation Vice President for Research, Development and Innovation, said: "With Qatar Foundation playing a leading role in fostering a vibrant RDI ecosystem in Qatar, we clearly understand that such efforts cannot happen in isolation.Our participation in the STS Forum provides us with invaluable opportunities to plug into the global STI ecosystem and network with prominent institutions from across the world under one roof.
"This enables us to explore future partnerships and facilitates the exchange of knowledge and expertise to support the advancement of Qatar's drive towards economic development and diversification through research and innovation."
To read more, please click
here