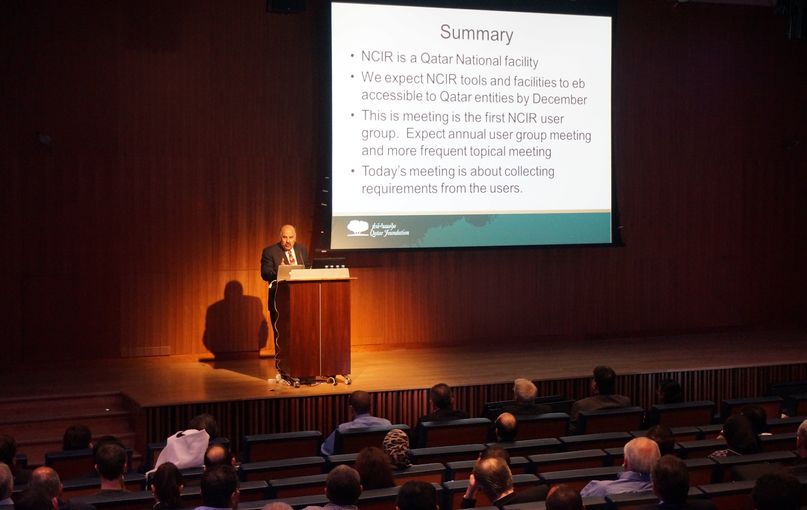 Qatar Foundation Research and Development (QF R&D) recently gathered distinguished experts at the inaugural National Computing Infrastructure for Research (NCIR) User Forum in Doha, to discuss the importance of high-performance computing in research activities across Qatar.
As Qatar prepares for the development of the NCIR, the forum, attended by more than 130 experts, shed light on how computing remains an essential component of modern-day research.
Stressing the importance of high-performance computing Dr Mohammad Khaleel, Executive Director of NCIR and the Qatar Environment and Energy Research Institute, said: "Supercomputing is no longer a luxury technology for selective applications as the increased computation will enable researchers to apply much more sophisticated and precise techniques for the advancement of science."
Administered by QF R&D, NCIR is designed as a single entity to provide integrated national-scale computing and data capabilities for universities, industries and researchers in Qatar.
As envisioned, Qatar's centralized national computational resource would surpass what any single institution could afford to deploy.
Dr Thomas Zacharia, Executive Vice President for QF R&D was one of the speakers at the NCIR forum where Qatar's research ambitions were expressed, identifying the infrastructural needs and research opportunities for high-performance computing in Qatar.
Attended by policy makers, senior researchers and computer scientists, the forum focused on how supercomputers, capable of more than 1,000 trillion calculations per second – 'petaflops' – can be used to help address some of Qatar's most important scientific challenges.
In Qatar, researchers anticipate using the complex simulation capabilities of supercomputers to address what Qatar Foundation has identified as the nation's 'Grand Challenges' of water, energy, health and cyber security.
Specifically, scientists will use computational modeling to study oil and gas exploration, the development of new materials for oil and gas exploration, climate change, the electric grid, genome sequencing devices, advanced cyber security, and data analytics.
For the full story, please
click here
.