WCMC-Q Welcomes Qatar's Future Physicians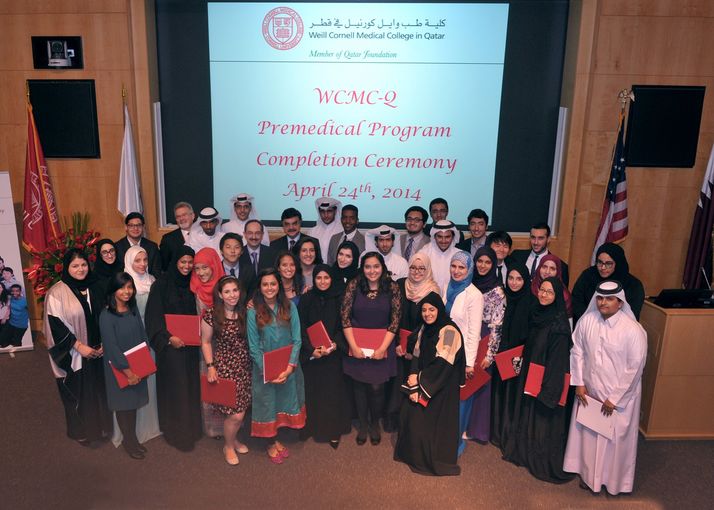 Weill Cornell Medical College in Qatar (WCMC-Q) has introduced its new intake of students to the college with a week of orientation exercises.
The new students, who have joined the college's foundation and pre-medical programs, took part in a series of sessions designed to introduce them to their classmates, faculty members and life at WCMC-Q.
The five-day program of events, which ran from 18–22 August, also included sessions to introduce students to the university's electronic library, computer services and key study and time-management skills. The students received their new laptops and took seminars and workshops on English language skills, academic integrity and the college's QLearn electronic learning resource.
There were plenty of breaks from the world of academia, however, as the students participated in icebreaker sessions, visited Hamad Bin Khalifa University's Student Center and Katara cultural village, and enjoyed a murder mystery evening and an Arabian culture night.
A total of 21 students will take the foundation course in the 2013-2014 academic year, and 45 are enrolled on the first year of the pre-medical course. In total, 27 of the new students are male and 39 are female, with 15 different nationalities represented by the new cohort. Twenty of the 21 foundation students are Qatari nationals, and there are 13 Qatari students out of 45 enrolled on the first-year pre-medical course.
Students on WCMC-Q's two-year pre-medical program take courses in biological science, chemistry, physics and calculus in the first year, while in the second year courses tackle subjects including neuroscience, medical ethics, human genetics, organic chemistry and immunology. Successful completion of the pre-med course prepares students to take WCMC-Q's four-year medical course, which is the only US accredited MD degree offered outside of the US. The foundation course covers the basic sciences, English and mathematics, and prepares students for the pre-med course.
The final day of orientation saw the students host a lunch for WCMC-Q's catering and maintenance staff and package donated clothes and other items to be presented to Qatar Charity.
For the full story, please click here.