Four Qatari high school students were awarded research experience in some of the world's top laboratories after winning Weill Cornell Medicine-Qatar's (WCM-Q) Healing Hands essay competition. They recently returned to WCM-Q to speak about their experiences.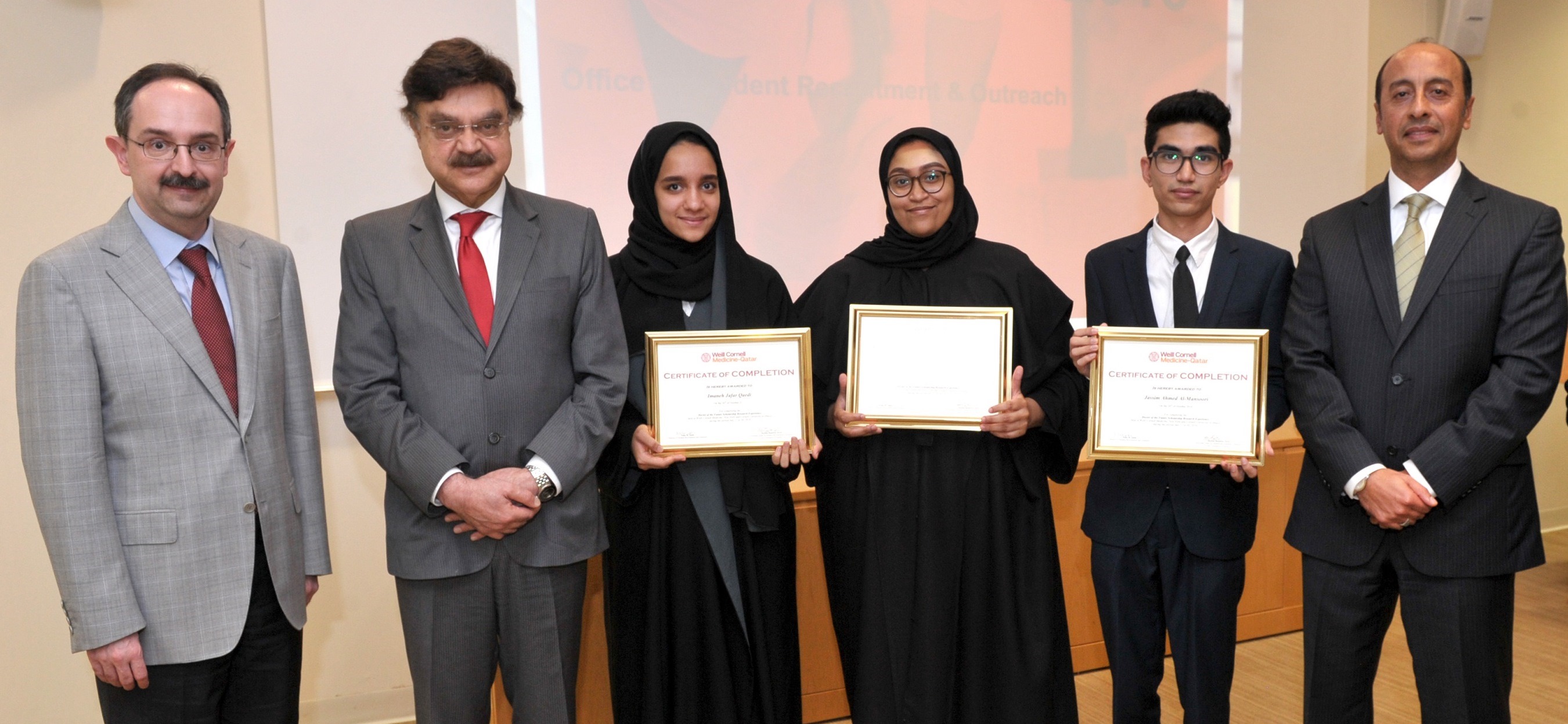 Back in May 2016, the students were awarded 'Doctors of the Future' scholarships to spend time at Weill Cornell Medicine in New York City and Cornell University at Ithaca, upstate New York. The students were selected after they wrote the best essays, out of a large number of submissions, on the topic 'Technology in Medicine: Promise and Peril'.
This year's winners were Aljohara Salem Al-Marri (Al-Eman Independent School for Girls), Fatima Mohammed Al-Naimi (International School of London-Qatar), Jassim Ahmed Al-Mansoori (The English Modern School) and Imaneh Qaedi (Al-Eman Independent School for Girls).
Imaneh said: "It was a really great experience," she said. "The most interesting thing for me was going on rounds in the clinic, getting to talk with patients and having the doctors explain the different cases to us. They showed us CT scans and explained the differences between healthy and abnormal physiology, so we got a real insight into what it's like to be a practicing doctor."
Jassim said: "I enjoyed the experience so much, especially the lectures, which were really interesting. Since I got back I have been inspired to read and learn as much as I can about a wide range of subjects, from DNA and how it replicates through to theories about addiction. The whole experience was very intellectually stimulating."
Each of the students was presented with a certificate of participation at a ceremony attended by Dr. Javaid Sheikh, Dean of WCM-Q, Dr. Marco Ameduri, Associate Dean for Pre-medical Education, Dr. Rachid Bendriss, Assistant Dean for Student Recruitment, Outreach and Foundation Programs, Noha Saleh, Director for Student Recruitment and Outreach, and Dr. Krystyna Golkowska, Associate Professor of English.
Dr. Golkowska said: "We were extremely impressed by the aptitude and enthusiasm of the students. They worked extremely hard, were open to every new experience, and always had smiles on their faces. I am confident that if they applied and gained acceptance to WCM-Q, they would make excellent students."
Dr. Sheikh said: "We are extremely happy that our Qatari scholarship students responded so positively to the experiences they had in the US. They were excellent ambassadors for their high schools, for WCM-Q and for Qatar. We hope that they will continue their journeys as scholars of science and we welcome them to apply to study here with us at WCM-Q so that they can become physician-scientists able to serve their community."
For the full article, please
click here
.