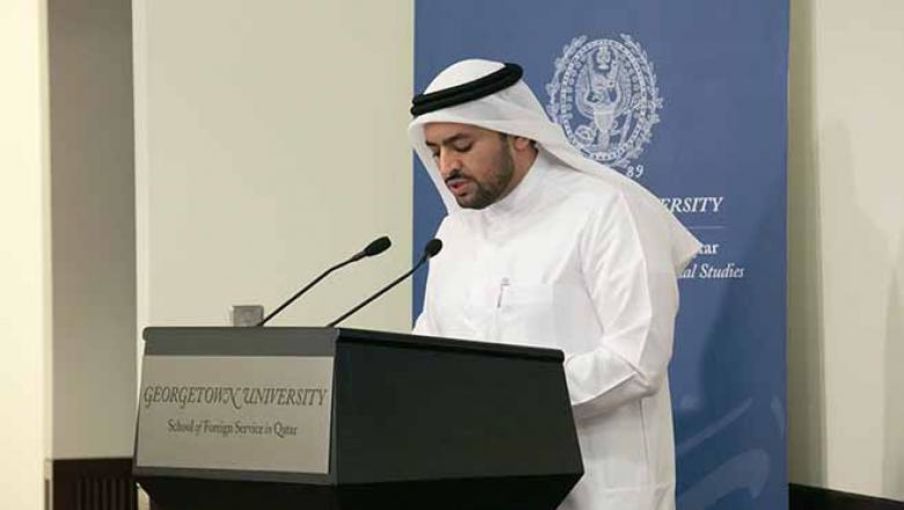 Qatari lawyer and assistant professor of commercial law at Qatar University (QU), Dr Mohammed Abdulaziz Al-Khulaifi, was a guest speaker at a distinguished public lecture held at Georgetown University-School of Foreign Service in Qatar (SFS-Qatar) recently, where he presented 'Insights into the Qatari Legal System', which included a brief history of Qatari law, a review of legal departments, and steps required in passing new laws today.
The law professor described a long history of legal dispute resolution in Qatar that stretches back to the seventh century, noting that pearl divers used to go to the 'Al-Salfa judiciary', a group of well-known people who specialized in a particular method of dispute resolution based on customs of that time period.
The country passed through the period of the British mandate, after which "the British courts were eliminated when Qatar declared its independence in 1971, and replaced by the 'Qatari Justice Courts'," said Dr Al-Khulaifi, clarifying that this new court had full authority to rule over cases related to civil, commercial, and criminal law, while the 'Sharia Court' specialized in family disputes, inheritance, and other Islamic law.
Then in 2003, there was yet another shift in the legal system when both of these judicial entities, Justice and Shariah, merged into a single entity called 'The Qatari Courts'. And in 2005, the Court of Cassation was established, the highest level in the judiciary sector.
Dr Al-Khulaifi, who is a visiting fellow at SFS-Qatar for the upcoming academic year, described the process by which a law is passed in Qatar. A law proposal, which starts as a draft that is prepared by specialized legal committees in the Council of Ministries, is then presented to the Council of Ministers, after which, if it is passed, it is sent to the Shura Council for consideration.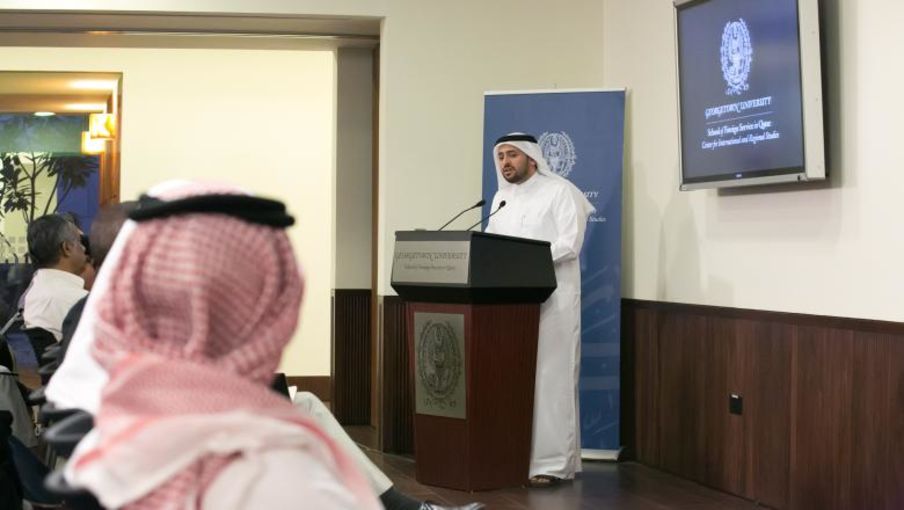 If approved by the Shura Council, it returns to the original Council of Ministers so that a decision can be issued to refer the draft in its final form to the Office of His Highness, Sheikh Tamim Bin Hamad Al Thani, Emir of Qatar for issuance. Finally, a signed law is sent to the relevant department in the Ministry of Justice for publication in the official Gazette of the State, in preparation for implementation in public life.
Dr Al-Khulaifi also discussed the challenges of ensuring that commercial laws keep pace with Qatar's rapid economic development, saying: "Qatar is engaged in a tremendous number of high-valued projects, valuing approximately $250 billion, according to projectqatar.com.
Dr Al-Khulaifi is also the Associate Dean of Academic Affairs at Qatar University, and is frequently consulted by governmental institutions to present his legal opinions on matters related to commercial legislation in the state of Qatar.He received the State PhD award from His Highness, Sheikh Tamim Bin Hamad Al Thani, Emir of Qatar at Qatar Education Excellence Day in 2012.
To read the full article on Georgetown's website, please
clickhere
.