One of Qatar's leading doctors explained the latest therapies for the management of acute respiratory distress syndrome (ARDS) at the most recent installment of Weill Cornell Medicine-Qatar's Grand Rounds series.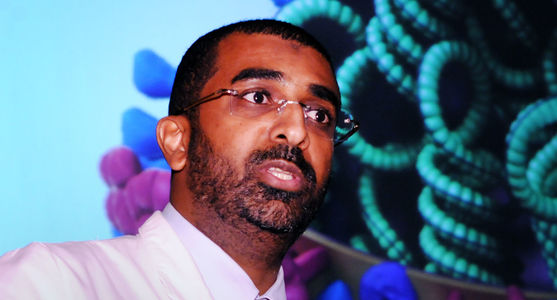 Dr. Ibrahim Fawzy Hassan, Corporate Director of Critical Care at Hamad Medical Corporation and Assistant Professor of Medicine at Weill Cornell Medicine-Qatar (WCM-Q), gave a detailed exposition of ARDS, which is a severe and life-threatening condition characterized by widespread inflammation of the lungs and fluid build-up in the air sacs (alveoli). This fluid in the alveoli inhibits gas exchange, preventing the lungs from taking up oxygen and releasing carbon dioxide and causing severe breathing difficulties.
Dr. Hassan said: "To treat ARDS you cannot just give oxygen therapy because alveoli that are filled with fluid are not going to respond. This will lead to severe hypoxemia (abnormally low oxygen concentration in the blood) so clearly a different rescue therapy is needed. The response should not be to give more and more oxygen but instead we need to open the alveoli and increase lung recruitment."
Dr. Hassan received his MD degree in Kiev, Ukraine, and completed his residency training at NewYork-Presbyterian/Weill Cornell Medical Center. Dr. Fawzy has won several awards, including the Alpha Omega Alpha award from Weill Cornell Medical College and The Young Clinician of the Year award for the Middle East region from Cleveland Clinic, Ohio. In the light of the outbreak of Middle East Respiratory Syndrome (MERS), Dr. Hassan was instrumental in the development of the Severe Respiratory Failure ECMO Program at HMC.
The activity was an Accredited Group Learning Activity (Category 1) as defined by the Qatar Council for Healthcare Practitioners-Accreditation Department and was approved for a maximum of 1.00 hours.
For the full story, please click
here
.