QatarDebate Center, a member of Qatar Foundation (QF), and Ministry of Justice of the State of Qatar, represented by the Legal and Judicial Studies Center signed a Memorandum of Understanding (MoU) on Monday, recognizing the mutual interest in the fields of legal education excellence, legal skills training, and development and dissemination of Legal knowledge.
The two entities will collaborate in all legal, academic and professional areas to enhance and qualify legal officers and members of judicial bodies for legal work.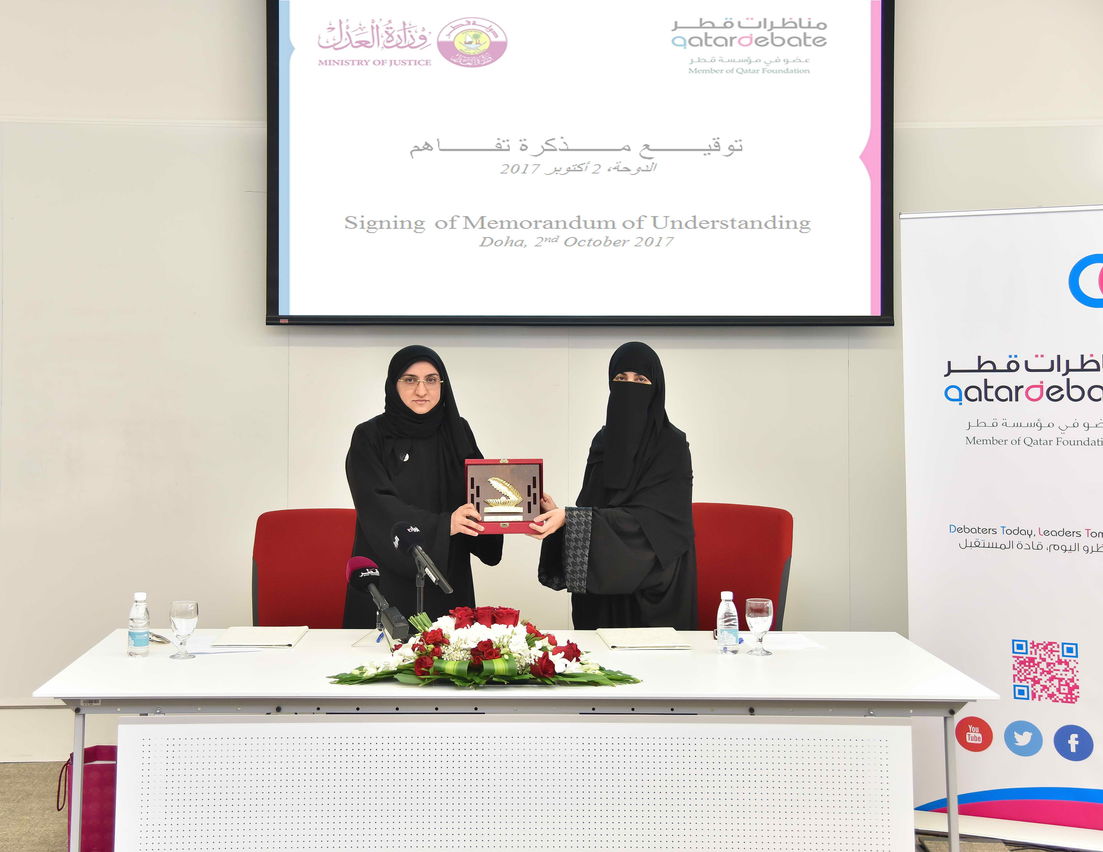 The agreement was signed by Dr. Hayat Abdullah Maarafi, Executive Director of QatarDebate Center, and Fatima Abdulaziz Bilal, Director of Legal and Judicial Studies Center at a ceremony held in Qatar Debate office on October 2, 2017, at Students Center, Education City.
In a press conference held on the occasion, Dr. Maarafi said that the MoU will establish a fruitful cooperation in supporting legal and judicial staff members of the Ministry of Justice, providing them will training on debate skills and enhancing their research, knowledge and dialogue abilities. In addition, the youth in QatarDebate will have the opportunity to benefit from the expertise of jurists and judges, field training and benefit from the legal library.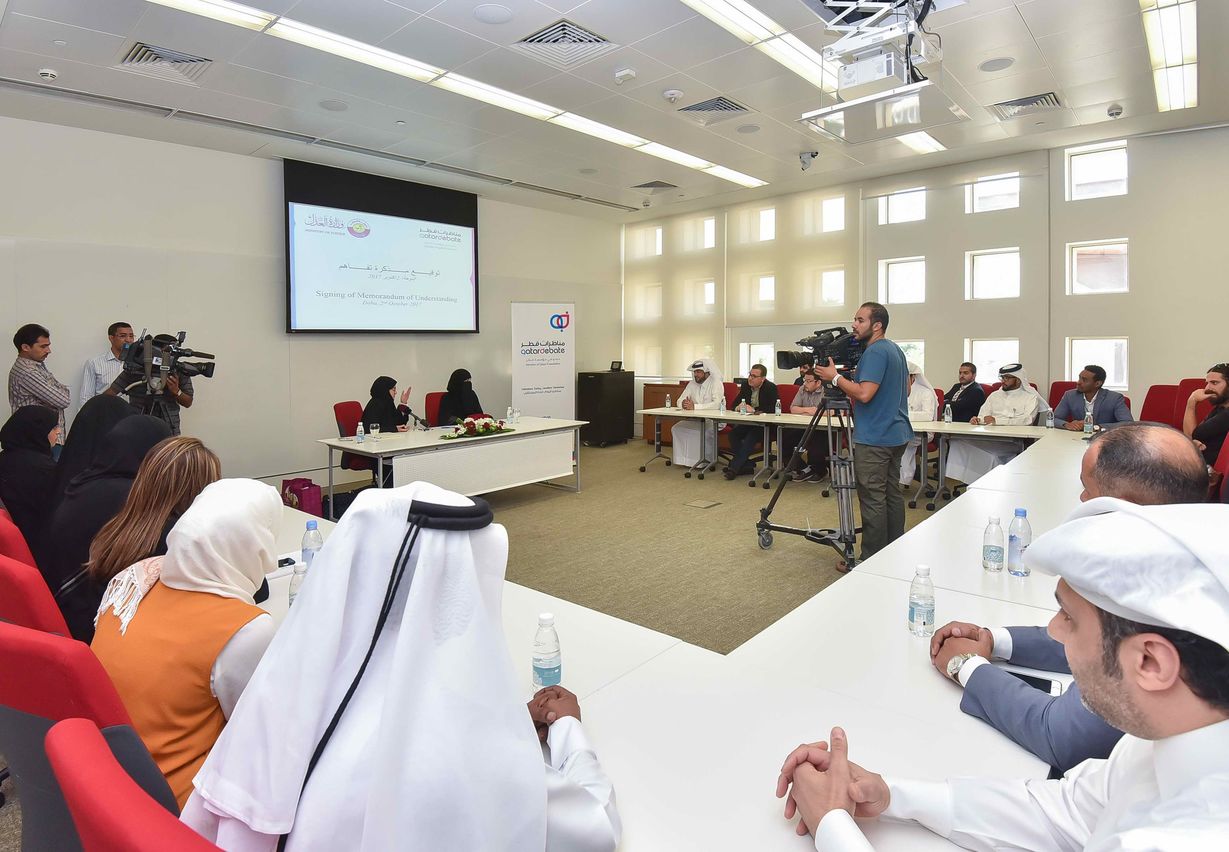 For her part, Bilal said that the Legal and Judicial Studies Center aims at improving the level of legal and judicial training in the country. Therefore, it is important to learn the art of the debate by adopting new training programs that were not previously proposed in order to support and develop the skill of dialogue and debate in legal work, which is the main target of the joint cooperation between the Ministry of Justice and QatarDebate Center.
The MoU between QatarDebate Center and Legal and Judicial Studies Center will see a close collaboration in organizing seminars, debates, seminars, visits and workshops on subjects of mutual interest.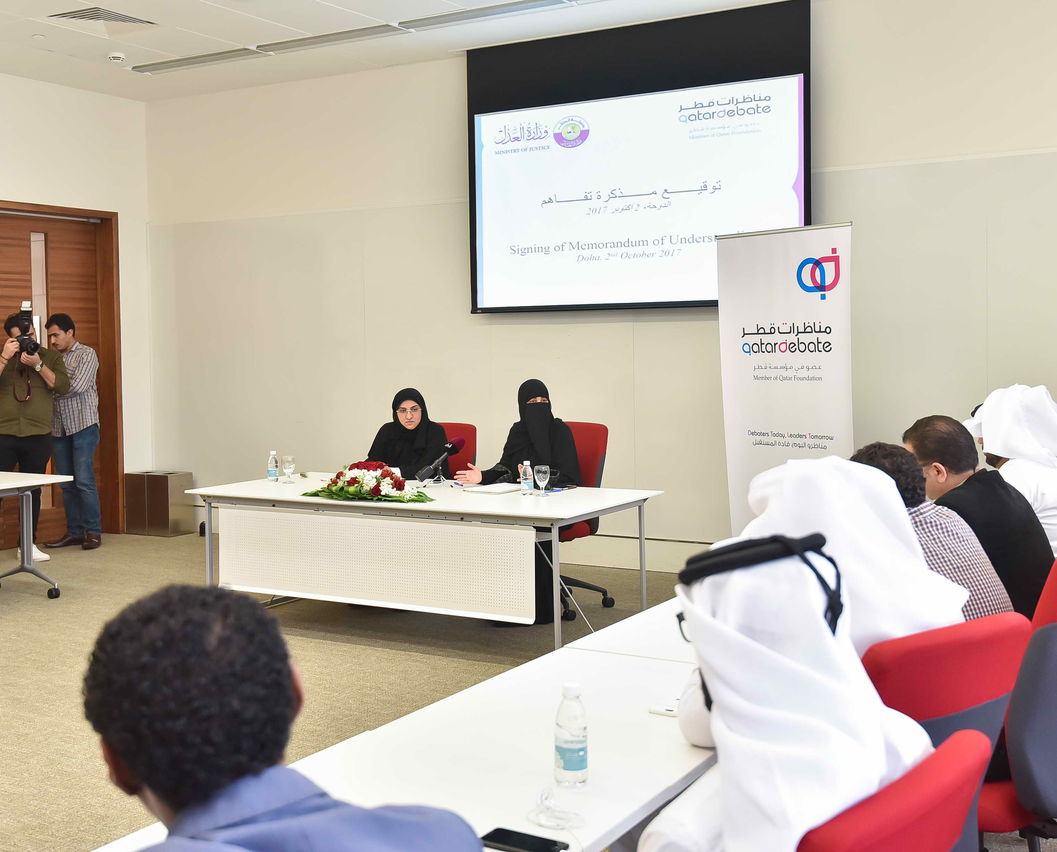 The agreement will also allow the two parties to exchange reports, bulletins, scientific journals, or any devices that reinforce legal knowledge and skills, as well as the Legal and judicial training programs, adopted by the parties.  
To read the full story, please click
here
.