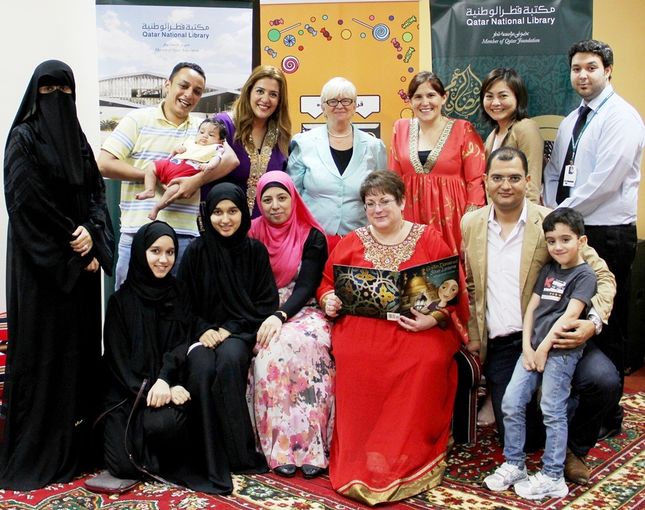 In celebration of the traditional mid-Ramadan children's festival 'Garangao,' Qatar National Library (QNL) and Qatar Foundation's Community Services hosted a wonderful event for children on Tuesday (23 July). QNL, a member of Qatar Foundation, rejoiced in the spirit of Ramadan with fellow employees and their families at Qatar Foundation's recreation center.
The joyous event, which is aimed at promoting local traditions and customs, was organized in conjunction with the office of the Supreme Education Council (SEC) Vice Chair, Her Excellency Sheikha Hind bint Hamad Al Thani, as part of a Ramadan reading program.
During the fun-filled event, 800 children participated in a variety of traditional activities that have been passed down throughout the generations. Apart from receiving the traditional Garangao gifts and sweets, the children were also given complimentary books provided by the SEC as part of the proposed National Reading Campaign. The event also featured a number of entertaining activities, including arts and crafts, storytelling, time-honored folk songs, and amusing shows for children.
Commenting on this event, Dr Claudia Lux, Project Director of Qatar National Library, said, "The event was a memorable one for children and elders alike and QNL is planning to organize several festivities in a traditional atmosphere in the future."
'Garangao' is a middle of Ramadan tradition that is widely celebrated by children across the Gulf region. On this night, children walk around their neighborhoods singing traditional songs that mark the occasion and receive gifts and bags of sweets from their elders. This year, the QNL event was a great success and the National Library enjoyed bringing families together in a festive atmosphere to celebrate Ramadan and Garangao day.
For the full story, please click here.